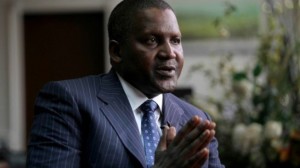 Africa's richest man and President of Dangote Group, Alhaji Aliko Dangote has declared: "We are not going to import anything any longer."
Dangote made this firm declaration in the presence of Vice President Yemi Osinbajo, Congolese presidential hopeful Moise Katumbi and about 300 business leaders at the Financial Times' 4th annual Africa Summit in Claridges, London.
Dangote also revealed that he became rich and successful in business due to self-sufficiency and backward integration.
"In Nigeria, we are learning how to produce the entire value chain," Dangote added.
Once a heavy importer of fertiliser, Nigeria is now gearing up to produce three million tonnes of locally manufactured fertiliser, transforming the nation into one of the largest fertiliser exporters in Africa.
In 2007, Nigeria was the second largest importer of cement after the US, Dangote reminded the audience of business elite.
"Today, we have not only satisfied domestic needs; we have become a leading exporter of six to seven million tonnes of cement," he added.
Diversifying into agriculture, Dangote has eyes on the dairy industry motivated by the fact that "98% of all milk consumed in Nigeria is imported." Same for rice.
Dangote Group has invested heavily in rice production by investing in local farmers and then offering to buy back the one million tonnes at open market prices.
"Soon we will be able to feed not only Nigeria but the entire 320 million large West African market," he said.
Dangote's business acumen was on rare exhibition as FT editor Lionel Barber seemed impressed with the business mogul's quick familiarity with the nuts and bolts of his businesses.
"Are we going to continue to import everything?" Dangote asked. "Freight rates are now cheap but they will go up soon. A population of over 200 million cannot continue to import basic needs on a daily basis," he said. "In Africa, you have to play long-term."
"Aside from Nigeria, which African nations do you think are good growth opportunities?" Barber asked Dangote.
"Aside from Nigeria?" the business leader repeated and smiled. "I'd have to pick Nigeria. I am a big fan of Nigeria. We are only using eight percent of our land."