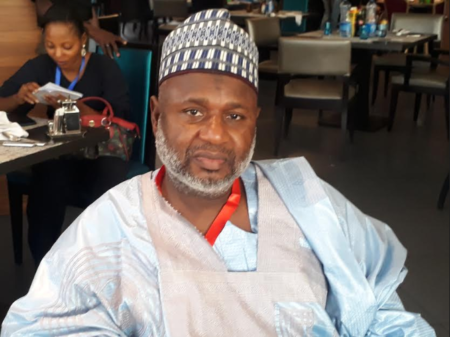 Senator Ahmed Rufai Sani Yerima is former Zamfara State Governor and current Chairman, Senate Committee on Marine Transport. In this exclusive interview with Shulammite 'Foyeku, the ranking Senator speaks on budget implementation by maritime agencies and the need to encourage private sector investment in the maritime sector, among other issues.
Excerpts:
Do you support calls by stakeholders for the creation of a Ministry of Maritime? 
It is not for legislators to decide on that. It is the president that appoints his ministers and if there is need for the creation of a ministry, he is the one that will decide on that. Legislators will just advise may be in form of motion and that is just an advice.
Are you satisfied with the level of budget implementation of maritime agencies?
As legislators, we do not only approve budgets, we make sure we do oversight to ensure that the agencies adhere to the approvals given to them by the National Assembly. Implementation is also based on revenue. Budget is just an estimate of revenue and expenditure. Once revenue goes down, implementation will also go down. But if revenue goes up, then they may even have a need to refer back to the National Assembly for supplementary appropriation. But so far, the revenue generated by the Nigerian Ports Authority (NPA), the Nigerian Maritime Administration and Safety Agency (NIMASA) and other agencies are in line with their budget and we are satisfied with it. I have not seen any agency under the sector deviating from the approved budget that they presented to us. If there is any deviation from the approved budget, it attracts sanction. For example, the President can refuse to implement the budget but he cannot deviate from it.
In view of the security challenges on the nation's waterways, what effort is your committee putting in place to ensure that the anti piracy bill is passed into law.
The bill is already before the National Assembly. It has passed through the House of Representatives. In the Senate, it has gone through first reading and very soon, it will be referred to the committee for further legislative action.
Do you think cases of pirates' attacks in the Gulf of Guinea as reported by the International Maritime Bureau (IMB) are exaggerated as claimed by the Director-General of NIMASA?
Most recently, we saw the IMB statistics showing that one third of the global maritime piracy incidence recorded during a given period occurred in the Gulf of Guinea. Those people have satellite, they are seeing the whole activities in our waters so I don't believe the reports are exaggerated. This is not just statistics; it has an effect on such indices as insurance war risk leading to higher freight tariffs. That is why we now have a new security outfit that will enable us control all activities on our waters. The contract is awarded under NIMASA. It is going to be a new platform where our naval personnel will be trained so that we can effectively and efficiently control our waters.
What do you think can be done to maximise the potentials of the blue economy?
It is only when we have greater participation of the private sector that we can achieve that. If we don't increase the participation of the private sector, we will still be he having bottlenecks, corruption and inefficiencies that is associated with government officials. Engagement of the private sector is the only way out because any business run by private sector largely succeeds but any business that is run by government; corruption and other efficiencies are usually the lot. Once government withdraw gradually from direct investment, people will come and invest their money and they will make sure that they are efficient so that they maximise their profits.
Stakeholders have severally called for an urgent solution to the Appa gridlock. What short-term solution is the committee coming up with to fix the problem?
The short-term solution is for Julius Berger to complete their work on the (Apapa) bridge and I want to assure you that very soon Julius Berger would go back to work. Once that is done, it is going to reduce the gridlock by two hours. The medium and long-term solution is to have railway system so that goods can move directly from the port to the hinterland. Once we have the railway system, we don't have problem again because it is going to be cheaper and more efficient. It is actually the trucks that are causing these problems. All these projects are already designed and the government is looking into it. Very soon, hopefully from next year, we will start seeing the construction of railway system. We have to conceive, design budget and implement. So we have conceived this, the Federal Government has approved and it is now at the design stage.
What do you think can be done to revive the eastern ports? 
Apart from the issue of security, there has to be some investment. For example, the problem with Calabar port is the issue of dredging and it is an expensive venture. If there are private sector investments in the development of port, that will be the best way for Nigeria to grow. They invest their money and they recover through the dredging of the port. Civil servants and their associated corrupt tendencies will not allow the port to operate efficiently.
Do you think the various deep seaport projects being championed by state governments in the country are viable?
Yes they are viable projects because their design includes rail system. Two are already being built, one at Lekki and Badagry and I am sure very soon, they will start operating.
Where do you sand on the review of existing port concession agreements?
The concession agreement done earlier does not provide for total takeover by the private sector. The best thing is not only to concession the port but privatise operations of port activities. Unless and until we do that, we may not get it right. Like the Nigerian National Petroleum Cooperation (NNPC), every other service of government needs to be looked into to be privatised. The only area you cannot privatise is security. Anything that has to do with national security is in control of government, but business-oriented activities should be privatised. But that is not what everybody wants so some people will not allow it because that is how they make millions of dollars with ease. NPA and NIMASA officials always fight it to ensure that there is no privatisation.
Stakeholders have commended your committee for bringing the parliament home to the maritime industry. How does your committee intend to address some of the concerns raised by the stakeholders at the parley you had with them?
We have listened to them and we are going to develop a legislative agenda for the 9th Assembly. The 8th Assembly is just winding up. We are going for elections in the next two months and there will be no time for us to do much now. But with this stakeholder's conference, we can develop something that can be left behind for incoming committee members to work on in order to ensure efficiency and leverage on what we have done with the agencies under our purview.
Copyright Ships & Ports Ltd. Permission to use quotations from this article is granted subject to appropriate credit given to www.shipsandports.com.ng as the source.