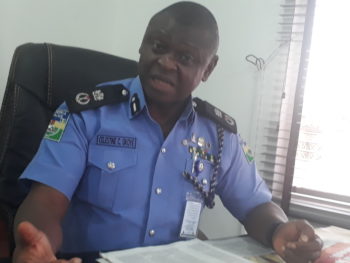 Celestine Okoye is the Commissioner of Police, Western Port. In this interview with Shulammite Foyeku, he speaks on effort by the police to enhance security at the port and traffic control among other issues.
Excerpts:
Since your assumption of office four months ago, what measures have you put in place to enhance security at the ports?
Because of the traffic situation, security challenge is now very minimal compare to the traffic challenges. Anybody that is going to steal anything here will have to steal and be able to escape. When you steal and you can't escape, how will you come again? Within the waterways, what we did is to monitor the waterways very well. The manpower is there, the marine police are all over but we don't have adequate boats. The boats we have are this normal paddling boat. But we have maintained our presence because when a criminal wants to operate anywhere and sees uniform personnel, he will run. Security challenge is a bit low unlike before when the traffic was so very free, that was when wharf rats were common but now, we don't talk of wharf rats again.
Recently Customs intercepted arms at the port. How closely are you working with Customs to unravel those behind the imports?
The synergy is there. If there is any problem, they call me and if I have I call them so we are working well. The issue of arms proliferation into the country is known to customs because they are the ones intercepting. Ours is to provide security. After Customs had finished doing their investigation, these guns ought to be returned to the police for proper investigation but they are not sent to me. Even the ones recovered now, we have not heard anything again. Nobody is telling us anything and I don't know where they sent the arms to, maybe they have different arrangement?  If the ones intercepted in January were handed over to DSS, it then means that these other ones, will be handed over to the same agency. We are supposed to be the one to take custody of those guns, so police is therefore neglected, that is the meaning.  We will just keep calm and anytime they (Customs) finish and call us to come and take custody of the guns we will do so. Do the investigation and our prosecution because the law is there for whoever imports such and it is our duty to prosecute the person. We are still waiting for Customs to communicate to us because I don't know why they are handing over the arms to DSS. But if it is their resolve to be handing over arms to DSS, we will not challenge that, we will just keep calm. Must I fight to take custody of arms? No. If DSS decides to investigate and do the investigation, no problem but the constitutional powers of the police is so open that these arms should come to us.
There are often allegations of extortion among police officers. How many of these officers found culpable have been prosecuted? 
The problem I have with the public on this matter is that everybody is talking of this corruption and be blaming police but I will be laughing because if you get to the gate here, it is not only police you will see there. NPA security is there, customs is there. So is it police that is always collecting money? I have sent my detectives to monitor them and personally I have done so. There was a night I came here from my house in Ikoyi and the whole road was blocked even at night. So I had to come in through the dockyard on motorcycle. I introduced myself but the man at the gate said you cannot be a Commissioner of police to be on motorcycle. Not until one of my officers was called and he came to identify me before they allowed me to enter. I entered, went to the gate and stood there. I was there waiting for them because they did not know me but I did not see any exchange of bribe. There was a report that police and NPA security are making N2billion every week so when I heard that I said I must know how this money is coming in. That was what made me come to the gate to see the N2billion because I can't be in my office working as a Nigerian and somebody somewhere is feeding fat from bribe and extortion? But I did not see. But if you see somebody compromising, call me immediately and I will take off because I need to use somebody as scapegoat and that is why I have released my number to everybody. I have also set up a unit that will be monitoring activities of officers in the field and anyone caught will be thrown out.
There are complaints from agents that after Customs release containers from the port, police still intercept it on the high way. What would you say about this?
The only time you can see us react or intercept any container is when information comes to us that the container is carrying an offensive import either bullet proof vehicles or arms, we will stop it because ours is to provide security. It can be embarrassing to me that where I am working arms are coming in and police is not in the know. How they (customs) intercepted the containers of fire arms at the port, I don't know. Mine is if information comes to us, we will also alert them. In fact this issue has even made me to write most of the companies here now and copied the Controllers of Customs at the port that we must be getting the manifest of everything that comes in now for us to confirm there is correct declaration. We know that sometimes, somebody imports very costly vehicles but they will declare something else. So if we go through and see there is something unlawful, we will impound that container.
What is the latest development about the police officer who shot a truck driver recently in Apapa?
You people always assume that Port Authority is in charge of Apapa. No. That police officer was not attached to the Port Authority police, but attached to the Lagos State command. So it is Lagos State command that arrested him. So I cannot speak because I don't know about it. It has nothing to do with us.
What has been your major challenge since your assumption of office?
The major challenge I am contending with is the Apapa gridlock. Nobody can move freely in Apapa, businesses have collapsed and a lot of people have left their offices and those living in Apapa are also moving out. So nothing can be as challenging as that. If Apapa is free of all this gridlock, we will do our work well. There was a time when Apapa local government was the richest in Lagos but that has changed. Everything in Apapa has collapsed and it is giving us concern. I am a Nigerian and I look at maritime as the next route of economy recovery of Nigeria aside oil but the whole place is caged and nothing seem to be moving. If anybody is coming to work, you will see them park their vehicles at Ijora, Surulere and come by motor bike even managing directors of companies. Who will be happy? So the traffic problem is my problem. That is the greatest challenge I am having here.
 Do you see the relocation of tank farms as solution to the Apapa traffic gridlock?
It is better to relocate the tank farms because the tankers are the major cause of the traffic. They should relocate them to Epe or Badagry. If there is any fire incident, there will be disaster. The whole Apapa will be gone. Tank farms should not be located near business environment. One thing we must know is that foreigners come into the country through our ports and when they come and see that nothing seems to be moving, that is how they will assess Nigeria. So I am in support of the relocation of tank farms, they can be relocated to Badagry or Epe so that this place can be free. You don't locate tank farms close to a port because any little thing that happens, we will see explosion here and to recover from it will be very difficult. Each time I pass through the dockyard and walk pass some of the tank farms, I will be praying to leave there freely. By the time we have holding bay somewhere,  the tank farms  relocated and the roads repaired ,  Apapa will return to its old glory. Those days when I was a junior officer, we love living in Apapa GRA because there were lots of activities including night life. We enjoyed Apapa then. But what do we have now? Weeds have taken over some compounds and companies. Without putting all of these measures in place, the federal government effort at improving ease of doing business will not work. 24 hours cargo clearance will be just a common joke. There are certainly things we say and when we don't make effort to implement it, it becomes a joke. Nigeria's business hub is the maritime sector because we are import dependent but things are not coming in as expected and even the ones exported are not going out as expected. If you want to export anything, your truck will come here and spend more than two weeks. People do business to make gain but by the time you spent two weeks on the road trying to access the port, you have almost lost all the gain.
Why did you choose to relocate your office from Marina to Apapa?
I had to leave Marina because of this traffic problem. I can't be in Marina in the cosy office when my main office is not free. Since I came, I think there is a little improvement on traffic control because I had to mobilize about 100 officers from various divisions and move them out to go and be controlling traffic.
Copyright Ships & Ports Ltd. Permission to use quotations from this article is granted subject to appropriate credit given to www.shipsandports.com.ng as the source.