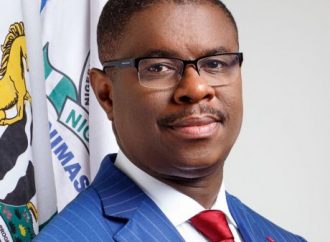 The tenure of Dakuku Peterside as Director-General of the Nigerian Maritime Administration and Safety Agency (NIMASA) was not renewed by President Muhammadu Buhari because of the inability of the former to develop indigenous shipping thereby losing industry operators' goodwill; failure to curb piracy and armed robbery at sea; and failure to maintain a harmonious relationship with federal lawmakers.
President Buhari yesterday appointed Dr. Bashir Jamoh as the new Director-General of the apex maritime regulatory agency.
The newly appointed DG was the Executive Director, Finance and Administration at NIMASA.
An official of the Presidency, who disclosed this to SHIPS & PORTS on Wednesday, said Dakuku Peterside was unable to realize the desires of President Muhammadu Buhari to utilize indigenous shipping as a fulcrum of national development and increase the maritime industry's contribution to employment generation and the Gross Domestic Product (GDP).
The official, who did not want his identity disclosed because he was not authorized to speak on the matter, said the President is not satisfied with the academic, rather than pragmatic approach, adopted by Peterside in running the affairs of NIMASA over the past four years.
"It has all been hot air. You hear a lot of grammar with little or no progress. This is not what the Federal Government wants. The President of Nigeria wants to create jobs for seafarers; he wants Nigerian shipping companies to be meaningfully engaged; he wants them to lift Nigeria's crude oil and to implement the Cabotage Law.
"President Buhari is keen on developing the Nigerian economy and the shipping sector is important in this regard, so we need to have someone who enjoys the goodwill of the maritime industry players and who can propel the industry forward in practical terms," the official said.
The new NIMASA Director-General, Dr. Bashir Jamoh, is highly cerebral and is an author and accomplished maritime administrator, who has served the maritime industry in various capacity. He has also been part of major reforms at NIMASA.
He has over 30 years of public service experience. He had served in the Kaduna State Government before transferring his services to the then National Maritime Authority (NMA) in 1994.
According to NIMASA website, Jamoh holds a Ph.D in Logistics and Transport Management from the University of Port Harcourt, Masters degree in Management from the Korea Maritime and Ocean University in South Korea, an Advanced Diploma in Management from the Bayero University Kano, a Professional Certificate in Materials Management from the Institute of Logistics in the UK and a Diploma in Accounting from the Ahmadu Bello University Zaria.
Copyright Ships & Ports Ltd. Permission to use quotations from this article is granted subject to appropriate credit given to www.shipsandports.com.ng as the source.