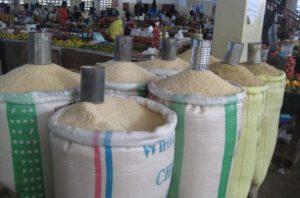 The Minister of Agriculture, Audu Ogbeh, on Tuesday gave reasons why imported rice is still more expensive than locally produced rice, despite government efforts.
Ogbeh, while responding to questions at a Town Hall meeting in Abuja, said one of the major reasons was that most of the imported rice was subsided by the foreign governments.
He said most of the imported rice are from Vietnam, India and Thailand.
Thailand subsidises the export of rice, the minister said.
He explained that the imported rice arrive at about 9,000 per bag, and are then sold at about N13,000 per bag to consumers unlike the local rice sold at about N16,000 per bag.
Ogbeh also lamented the interest rates for farming loans.
Our interest rates in this country is higher that the interest rate in most parts of the world," he said.