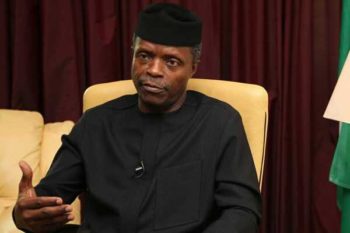 Acting President, Prof. Yemi Osinbajo, has described corruption as one of the reasons Nigerians are facing hardship.
Osinbajo said corruption, which had been in the country for many years, contributed a lot to the economic challenges affecting Nigeria.
Explaining that the Federal Government was investigating the $15 billion Defence contract, he stated that the disappearance of such an amount would lead any country to hardship.
The Acting President, who spoke in Port Harcourt on Tuesday during a town hall meeting with members of the All Progressives Congress, also attributed the country's current economic woes to the continued attack on the nation's oil facilities.
"It is easy for people to say that times are hard. One of the reasons things are hard in the country is the corruption that has been in the system for years.
"We are investigating at the moment, the $15 billion of the defence contract award. If $15 billion dollars disappeared when you have a reserve of $30 billion, there is no way there will not be hardship.
"The other thing is the destruction of pipelines and facilities. Oil prices fell by half, then we started losing one million barrels a day, 60 per cent of revenue. There is no way there will be no recession," he said.
Osinbajo, however, expressed optimism that with the prudent management of inadequate resources, the country would move out of its current economic challenges.
"We are sure that because of the way we are approaching the business of governance, even with the little resources, things will change for the better. For the first time, we have bailed out the states of the federation.
"When we came, 22 states were not paying salaries at all. We had to bail them out twice. Despite the lean resources, we are still able to support the states.
"In the next few months, as things shape up, this country will improve and the exchange rate will improve," the Acting President stressed.
Osinbajo noted that Nigeria would have crumbled economically, but for the prudence of the Muhammadu Buhari administration.
He added that the economy was recovering, noting that in a few months, things would begin to change for the nation.
Osinbajo noted that projects that would benefit the people of the Niger Delta region would be given adequate attention by the Federal Government.
Copyright Ships & Ports Ltd. Permission to use quotations from this article is granted subject to appropriate credit given to www.shipsandports.com.ng as the source.