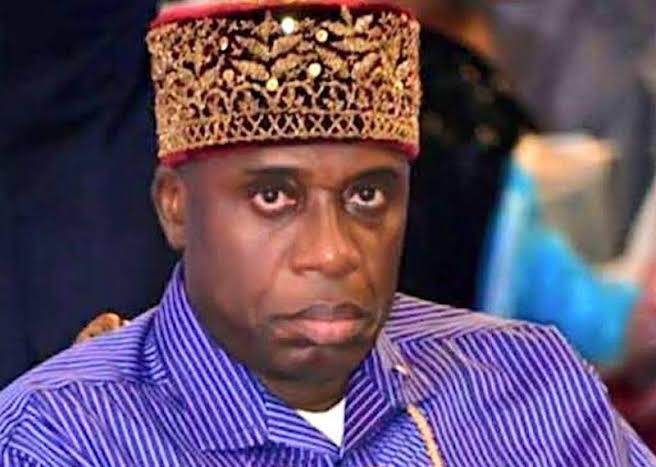 President Muhammadu Buhari has been advised not to reappoint Rotimi Amaechi as Minister.
Amaechi, who served as Transportation Minister from December 2017 to May 16, 2022, resigned to contest the presidential primary election of the ruling All Progressives Congress (APC), which he lost to former Lagos State Governor Asiwaju Bola Ahmed Tinubu.
National Coordinator of the Niger Delta Transparency, Accountability and Good Governance Group, Chief Julius Godspower, said Amaechi's failure at the APC presidential primary election is "a referendum on him and a rejection of his leadership style by Nigerians".
He said, "I have said it before, Nigerians don't want Amaechi back as Minister. Several times, he has said that he was tired, so he should go and rest. I also say that Nigerians are tired of him, so they don't want him back. Let those who are not tired bring fresh ideas to move the country forward.
"Here is a man who embarked on a political jamboree and unbridled flamboyance to declare for presidency barely a week after the Abuja-Kaduna train attack of March 28 in which about eight people were killed, including Amin Mahmoud, a youth leader of the ruling All Progressives Congress (APC); many injured and scores abducted by terrorists.
"Shortly after that attack, the Minister organised a huge thanksgiving party in Port Harcourt, which turned out to be a mega jamboree for his political ambition. That was a most insensitive act, which many Nigerians condemned. How can the same Nigerians now want him back?"
Godspower said the Minister of State for Transportation, Senator Gbemi Saraki, who has been in charge of the Federal Ministry of Transportation since Amaechi's resignation "is doing very well" and should be allowed to "implement fresh ideas".
"She is highly experienced, calm and more strategic in her approach. I wish to kindly appeal to His Excellency President Muhammadu Buhari to give her the opportunity to pilot the affairs of the Ministry to the end of his administration.
"I believe she will assist the President to realise his vision for the transport sector. She will bring fresh ideas that will move the sector forward," he added.
Copyright Ships & Ports Ltd. Permission to use quotations from this article is granted subject to appropriate credit given to www.shipsandports.com.ng as the source.