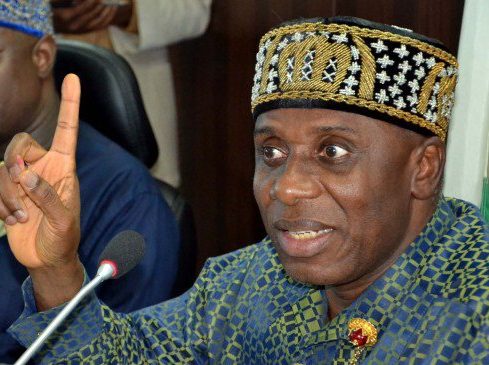 The Minister of Transportation, Rotimi Amaechi, on Tuesday, said the eastern rail line from Port Harcourt to Maiduguri has not been excluded in the ongoing nationwide rail construction and modernisation project.
Amaechi who stated this when he appeared before the Senate Joint Committee on Land Transport, and Local and Foreign Debts, said contrary to the claim of exclusion, there was only delay in the execution of the project due to bureaucratic bottlenecks occasioned by the Public Procurement Act.
The minister noted that due to the capital-intensive nature of the rail project, the government decided to adopt a systematic approach, due to the paucity of funds, to implement the project across the country at the same time.
He said, "The president insists on rule of law and the law passed by the National Assembly in terms of public procurement is very tedious and not easy to conclude; it takes a very long time.
"We have met with the consortium handling the project for nearly two years. Secondly, in that meeting we had in 2017, I reassured our people that they are not more Igbo than I am.
"Let me make it clear, the country does not have the resources to do railway in every village. It is not possible; 2.7 billion dollars is one trillion Naira.
"So, the railway you want to construct from Port Harcourt to Maiduguri costs about $12 billion; that is Nigeria's one year's budget. Therefore, everything is done systematically. We cannot do all the projects at the same time.
"What we are doing is as we get the loan approved, we execute the project. Currently, we are following due process for the one of South-East.
"Sometime in 2017, we placed an advertisement for rail from Port Harcourt to Maiduguri; that is what the law expects us to do. We cannot skip the law on construction of standard gauge.
"Again, even the narrow gauge construction does not only concern the South East. The same narrow gauge transverses Port Harcourt to Maiduguri.
"I do not know what other things the Senate expects from me on this project except to say that it is work in progress."
The Chairman of the Committee, Sen. Gbenga Ashafa, urged the minister to ensure that no section of the country was excluded from the rail project.
The Senate had on Nov.21 summoned the minister to appear before its joint committee on Land Transport and Local and Foreign Debts over the alleged exclusion of eastern rail lines.