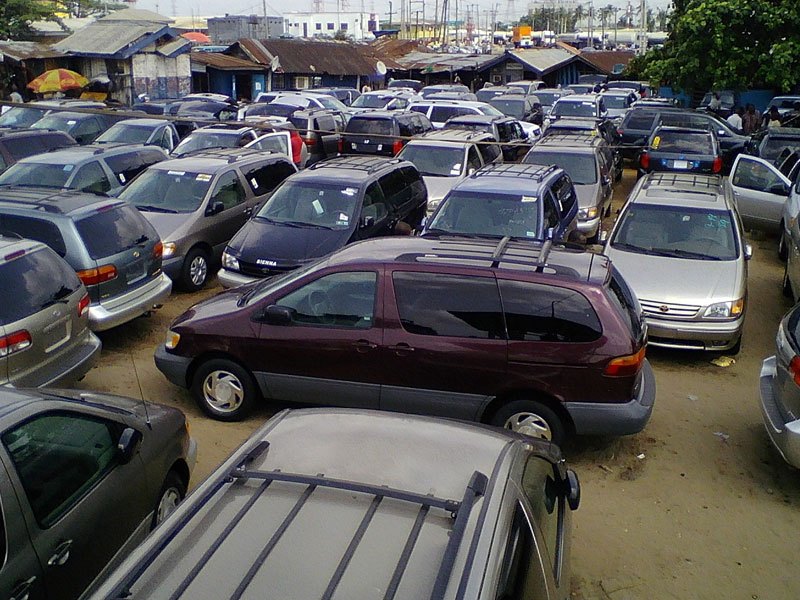 When the Federal Government slammed a ban on the importation of vehicles through the land borders, it was with the intention of encouraging local production to drive the development of the nation's automotive sector into a major base for the country's economy.
The Federal Government, through the Nigeria Customs Service, had on December 5, 2016 announced the ban on importation of new and used vehicles through the land borders with effect from January 1, 2017.
Then Public Relations Officer of the NCS, Wale Adeniyi had in a statement said, "The restriction on importation of vehicles follows that of rice whose imports have been banned through the land borders since April 2016.
"Importers of vehicles through the land border are requested to utilise the grace period up till December 2016 to clear their vehicle imports landed in neighbouring ports." 
However, despite the official ban, importation of vehicles through the land borders has continued as some car dealers still smuggle through illegal routes to avoid paying the right import tariffs.
This is evident going by the number of seized vehicles recorded by the Customs anti-smuggling units at Lagos and Ogun commands on a daily basis.
On several occasions and at different fora, the NCS and particular it's anti-smuggling arms, Federal Operations Unit (FOU) zones A, B and C located in Lagos, Owerri and Kaduna respectively, had vowed to continue to enforce the Federal Government's policy banning the importation of vehicle through the land borders.
Despite these efforts, however, statistics obtained by SHIPS & PORTS DAILY revealed that illegal importation of vehicles is on the increase. The FOU Zone A, Lagos, in 2018 said it intercepted 220 units of vehicles with a Duty Paid Value (DPV) of N6.4 billion as against 78 vehicles worth N1.9 billion seized within the review period of 2017. And just last week, the head of the unit, Comptroller Aliyu Muhammed, announced that the unit impounded 113 luxury vehicles worth N1.3 billion illegally imported into the country between February 1 and April 15, 2019. Muhammed said the vehicles were intercepted along Sagamu-Ibadan Expressway, along illegal entry routes and from different car marts in Lagos "based on credible information".
Owning to the nation's porous borders with more than 1,400 unmanned routes, the Customs hierarchy has admitted that there is little that it can do in the enforcement of the ban.
"We have multiple unapproved routes and there is nothing we can do about it. If all Nigerians with Customs officers will have to man the border, there are some places that cannot be covered. Even America with all their sophisticated technology cannot stop smuggling," Muhammed said.
Also, the prohibitive tariff — 35% Customs duty (up from 10%) and an additional 35% surcharge — imposed on imported vehicles by the Jonathan administration in 2014 remains a major incentive for smuggling. The ill-advised tariff hike has not done the nation any good but rather opened door to high level of smuggling of vehicles as importers are now diverting their vehicles to neighbouring countries to avoid the high duty. In the Port of Cotonou, Benin Republic, which has become the preferred landing port of several Nigeria-bound vehicles, duty on imported vehicle is 10 percent and additional 10 percent surcharge. 
Customs Comptroller-General, Hameed Ali, recently admitted that Nigeria's prohibitive tariffs on some items including imported vehicles will continue to fuel smuggling. 
He said, "What I suggested which is something we have been suggesting, is on automotive duty. If you know how the duty has been shared; we have 35% duty, 35% levy. But if you import a brand new vehicle to Nigeria you pay 70% duty. From what we have done — analysis and statistics — I discovered that this duty has now driven most of our importers to our neighbouring ports.
"Also, it has increased the rate of smuggling into this country. Having interacted with our stakeholders, what we discovered is that the sudden increase in duty is what is driving them to other ports. And the 35% was for us to encourage our own automotive industry in order to ensure that we develop, but 20, 30 years down the road, we cannot develop it and we are giving away a lot of money. It does nothing. It is a waste. We have to reduce that.
"It is our hope that statistics and volume of import will increase and therefore the duty collected by Customs will increase. So we are advising and we will continue to do that, that government should review the levy. And we are asking that it should be reviewed close to about 10%. If you do that, it means that collecting duty from new vehicle will be about 45% as 35% is the duty and 10% is the levy.
"I am sure that with that we will get an increase in the volume of importation, save the lives of our people because smuggling will reduce, and therefore, we will increase the intake in terms of revenue and therefore the economy will develop."
Ever since the government placed ban on importation of vehicles, importers have been speaking on the implication on the economy saying the government is losing huge revenue that should have accrued to Customs as import duty.
Speaking on the development, Chairman, Association of Nigerian Licensed Customs Agents (ANLCA) Seme Chapter, Lasisi Bisiriyu, who spoke in a chat with SHIPS & PORTS DAILY, lamented that since the ban which took effect on January 1, 2017, several appeal by the association to the Federal Government through Customs to reconsider the ban has fell on deaf ears.
According to him, despite Customs' effort to enforce the ban, many smuggled vehicles still find their way into the country.
"The ban has been effective in a way but we still have some recalcitrant ones that still risk their money and come back with fake document and still make use of the vehicle. Some of them that luck ran against, Customs still pick their vehicles on the road and overcharge them. When they pick such on the road, they (Customs) just extort money from them because they can't collect the duty from them. It is either the person agrees to pay what they requested for or they lose their car.
"We have been writing letters almost every time, appealing to them that government is losing revenue through that avenue because people still go and bring in their vehicles through the bush. They believe they are implementing the policy and they are gaining from it but what they are losing is far more than the gain they are making. This is because those that are smuggled in never pay anything to the Federal Government.
"Government does not care for the masses. If really the government cares, it would have reconsidered the ban and they know that some set of people are actually feeding from there," Bisiriyu said.
The ANLCA chieftain appealed to the Federal Government to reduce the tariff on imported vehicles as that would help discourage smuggling through the land border.  
A licensed Customs agent, Ari Ayuba, also urged Customs to open a window where importers could pay the duty on cars brought in through the land borders to discourage the hacking of password by fraudsters to clear the smuggled vehicles and boost the revenue of government.
He recalled how licenses of clearing agents were blocked in the past over the hacking of their password for release of vehicles, which were not imported through the sea port.
"Customs should open a window and give importers that are ready to pay another chance. That way, government will generate much revenue. If somebody has offended and infringes on the law but now, he has shown sign of remorse, Customs should give him another opportunity. Even though time was given to them to make payment then, but considering the various land borders that we have, the three-month period may not have been enough because vehicles are still coming in.
"The cost of clearing vehicle through our port is too high so the government should bring it down. Vehicles are tripling into the country illegally and the Federal Operations Units (FOU) are on the road checking most of these exotic cars most of which they have discovered are not in the system. So to avoid that, most of these car owners hack into people's licenses and genuine agents suffer for it. I expect customs to put in measures to protect our licenses to protect it from being blocked.
"The officers themselves are greedy. Most of them are not there to do the job but to just make money, whereas patriotism should come in when there is law in the land. The FOU should be moved to the land border to enforce the ban. Then if they see any vehicle coming after the exercise, then the officer in charge should be held responsible or dismissed. But because no one has been sanctioned, they see it as an avenue of making money," he said.