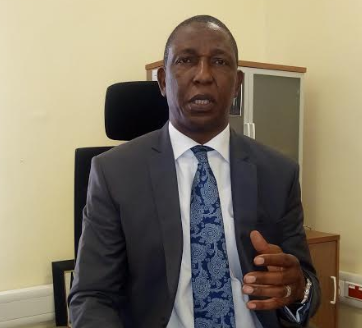 Ahmadu Garba is the Commander, National Drug Law Enforcement Authority (NDLEA), Murtala Muhammed International Airport Command, Lagos. In this exclusive interview with SHIPS & PORTS' John Omoaka, Garba advised travellers to always wrap their luggage to avoid it being stuffed with drugs, even as he blamed advertising agencies for promoting drug abuse among Nigerian youth.
What are the lessons learnt by NDLEA after the arrest of Zainab Aliyu in Saudi Arabia? What measures have you taken at the airport to ensure that the luggage of innocent travellers are not loaded with drugs by handlers?
I am sure you know that the incident happened in Kano and for us here I would not say this is the first of its kind. It has been on record that some stakeholders either conspired with the courier or work on their own to either aid or abet drug trafficking. We had one or two cases in 2017/2018. The incident in Kano is quite different from what we had here. It is a reality that tags are changed and people should learn from what has happened in Kano and those concerned should do what they are supposed to do to make sure that things like that don't happen again.
Luggage is handled by handing companies for the airlines. Basically, in Nigeria, the biggest handling companies are SAHCOL and NAHCO. They are the ones handling all the airlines in the country. There is need for the handling companies to do more than they are doing. There is need for them to look at their employment process. There should be vetting before employment and vetting on the job. If you look at the people that have been arrested some of them I think are not doing the work because of the salary. All they want is just to have 'On Duty' tags and work in the airport to do one thing or the other because the salary is not really attractive. So, I want to believe they are basically doing the work to have access to the airport for their own reasons. So, there's need for the handling companies do something about vetting whoever that is going to work for them.
I will advise passengers to wrap their luggage after it has been checked. There is no way if you wrap your bag and it is tampered with you will definitely know that it has been tampered. I think that service is provided for about N1,000 or N1,500.
What are the challenges NDLEA is facing at the airport?
We need more personnel at the airport. This is the busiest airport in West Africa. If you look at the number of arrests and seizures we recorded yearly, it can't be compared to anywhere in Africa; even in the world. Our figures are huge. Definitely, we need more personnel. There is need for us to have more and better body and baggage scanners. What we have are inadequate for us to do what we are doing. We need a lot of gadget for on the-spot-checks. We need swipe machines. Most importantly, there is need to move on to what is obtainable in other parts of the world. There is need for us to have Advanced Passenger Information (API) so that our officers will be able to have enough information about passengers. This would reduce the interface between my officers and passengers. When you have sufficient information on who is coming, you know who you are looking for and you will be able to pick them before they come.
Why do we have more people attempting to leave the country with illicit drugs?
Drug trafficking comes with trends. Personally, I want to believe that it is even easier to profile inwards because you have an idea of source countries for this kind of drugs. The drug trend is very dynamic now. Before now, most of the heroin that come in, come either from Pakistan, India or Afghanistan. But throughout 2018 till date, almost all the heroin we have arrested is coming from East African countries. People bring it to some of these East African countries and then bring them here. What go out mostly from here are methamphetamine, ephedrine and cannabis. Maybe that would explain the number of arrests for outward. Methamphetamine is produced in Nigeria unlike heroin and cocaine that are brought into the country. Ephedrine, which is a precursor, is brought in licit, as in legally, but is taken out illicitly. Cannabis is cultivated here.
Have you ever arrested airport workers that have been complicit in drug smuggling?
We have had instances where a staff of a handling company used a colleague's system and generated a tag and placed for somebody to use. As far back as 2015, we had another incident where somebody was arrested and we offloaded his bag. Lo and behold, the weight of the bag as at the time they were checking it was different and when the bag was searched, we had about 10kg of methamphetamine. There was another incident of somebody putting something inside somebody's bag but the difference here is that it was done with the consent of the person. The person has been arrested. The matter is before the High Court here in Lagos.
I can recall another incident during the inward clearance of an airline from Nairobi sometimes in 2017. There was a bag that came in and a staff of a handling company came to pick the bag and took it to the next luggage when my officer asked him what was in the bag and why he was carrying it. He said it was a rush bag. A rush bag is a bag a passenger missed. So they send it later and in an ideal situation a rush bag should have the original tag that should be with the passenger, the airline that is sending it from the station will put another tag they will call it a rush tag so it will have two tags. So my officer saw just one tag on the bag and said, 'If it's a rush bag, why is it having only one tag instead of two tags?' So, he was asked to bring the bag. They looked at the bag. They saw some things they were not really comfortable with, so they detained the bag.
Recently, the authorities in Saudi Arabia executed some Nigerians over drug trafficking. What is NDLEA doing in terms of sensitization to stop Nigerians from this act?
Planned or unplanned, this incident has already given it wide publicity; it has gone viral and a lot of people are now conscious that such thing can happen because it has happened to somebody so it can happen to them. On the part of NDLEA, there is public enlightenment on that. Definitely, we can do more than we are doing. Aside from that, at the airport we have tasked the handlers to make sure they do more supervision. There is need to have serious supervisory duty done right from checking to how it goes to the conveyor belt down to the basement of the baggage hall and through to the cart that will take it to the foot of the airplane and for it to be loaded into the plane. There should be serious supervision by high hierarchy of the handling companies to make sure that nothing goes wrong. These are some of the measures the agency has taken to forestall further occurrence. But basically, I will like to highlight the fact that responsibility of tagging and security of the luggage rests on airlines, the handling companies and the profilers. Statutorily, we are to make sure that there is no illicit drug in the luggage.
How well has your command fared?
Looking at our statistics, in 2018 we arrested about 93 people and we seized drugs up to about six tons (of illicit drugs) and if you compare that to statistics given by other airports in Africa even in the world, you will see that we have done well. It is not that we cannot do better than that but I think looking at the number of people that have been taken off and the quantity of drugs that have been seized and destroyed by burning after we get permission from the court, you will agree with me that something has been done. Even the most advanced countries in the world like USA are still battling with the problem. It is not something that you wish away, so the drug problem is a very complex problem. We are on course, we are not deterred that we still have pockets of cases at the court but we are optimistic to make sure that we actualize the mandate given to us.
What is your take on musicians whose videos promote illicit drugs?
There are regulatory bodies that are saddled with the responsibility of restricting the kind of lyrics you can do with a song. These are agencies created by law and they have a way they sanction. It is unfortunate the way they advertise certain things. As a father, I feel the youths are shown the picture of fulfillment, satisfaction and accomplishment. Hardly, if it is going to be a two-minute advertisement, it is just one second they will say 'Smokers are liable to die young'. But the whole advert of three to five minutes is not talking about the bad side of the product. It is unfortunate. So there is need for us to do more than we are doing in trying to bring out the dangers of some of these products because one of the major causes of drug abuse, as far as we are concerned, is the effect of advertisement. The way they advertise some of these products is as if once you take it, it solves your problems. So for a young man that is very adventurous, it is kind of giving him the push to take those things either to solve that problem or just to feel fulfilled or to celebrate a particular thing he has accomplished.