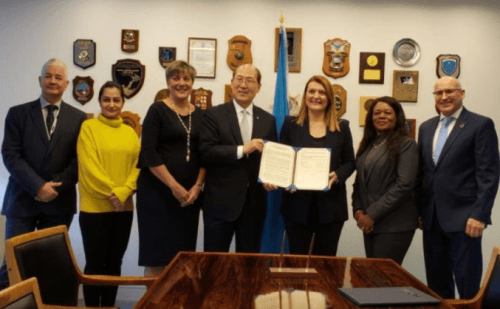 The Women's International Shipping and Trading Association (WISTA) is entering into a partnership with the International Maritime Organization (IMO) to help close the gender gap in the traditionally male-dominated shipping industry.
WISTA and the IMO recently signed a Memorandum of Understanding outlining a technical cooperation that will work to promote greater gender diversity and inclusion through various initiatives. Doing so just might hold the key to maritime sustainability, according to the two organizations.
WISTA has had consultative status with the IMO since 2018, putting the organization in a position to formally contribute to the discussion for increasing the capacity of women in maritime – both at sea and ashore – and showcasing the varied technical and leadership skills that women bring to the industry.
According to IMO statistics, women make up just 2 percent of the world's 1.2 million seafarers and the vast majority of them work in the cruise sector. In recent years, however, the IMO has been making a concerted effort to help close the gender gap in keeping with twenty-first-century norms. Last year, the IMO selected "Empowering Women in the Maritime Community" as the World Maritime Day theme seeking to raise awareness of the importance of gender equality in the maritime sector.
Several initiatives covered under the MoU are already underway. These include a study to collect and analyze data on the number of women employed in the maritime sector; developing a database of female experts in a wide range of maritime subjects available for speaking engagements to make panels more diverse; supporting implementation of IMO Assembly Resolution A.1147(31) on Preserving the legacy of the World Maritime theme for 2019; and Achieving a Barrier-Free Working Environment for Women in the Maritime Sector.
Another key part of the MoU is to strengthen cooperation and share best practices between the IMO-established regional women in maritime associations (WIMAs) and WISTA International's national WISTA Associations.
"These activities will lay the groundwork for further discussion on how a diverse workforce will be essential for a sustainable future," WISTA and the IMO said in a statement.
The MoU was signed by IMO Secretary-General Kitack Lim and WISTA International President Despina Panayiotou Theodosiou.