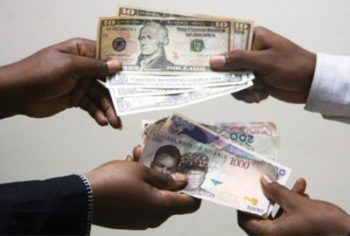 The drastic appreciation of the naira must be supported with devaluation or proper free-float of the local currency, else, the gain will only be a stop-gap, Bloomberg is reporting.
Quoting JP Morgan Chase and Renaissance Capital, Bloomberg said until Nigeria "devalues or makes a clear switch to a free-floating currency", it "will struggle to lure back foreign investors".
Forwards suggest more declines to come, investors are shunning naira assets, and a web of alternative exchange rates only adds to the confusion over the currency's real value.
John Ashbourne of London-based Capital Economics told the revered newspaper that the number of exchange rates in the country "further complicates" an already convoluted system.
Bloomberg data shows that naira forward contracts maturing in three months trade at 354 per dollar, suggesting the currency will drop 11 percent in the period. Naira six-month contracts are quoted at 381.
In the past week, the Central Bank of Nigeria (CBN) had taken a number of policy actions which has led to a record appreciation of the naira from 520 to 450.
The bank has pumped $371 million, $230 million and $180 million into the forex market in the past seven days, but investors want more in devaluation or free-float, owing to the fact that the currency remains 30 percent weaker on the black market than on the official one.  
Copyright Ships & Ports Ltd. Permission to use quotations from this article is granted subject to appropriate credit given to www.shipsandports.com.ng as the source.