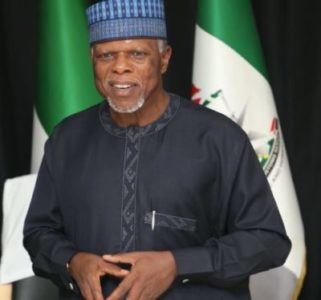 The Comptroller-General, Nigeria Customs Service, Hameed Ali, on Tuesday said he would not honour the invitation extended to him by the Senate to appear on Wednesday (today) in uniform.
He said his attendance at the Senate plenary as scheduled by the federal lawmakers would be subjudice.
Ali spoke with State House correspondents shortly after emerging from the mosque located beside the President's office inside the Presidential Villa, Abuja.
The Customs boss who was wearing a white kaftan jokingly told the reporters that the kaftan is his uniform.
He said he had received the writ of summons from the case instituted by a concerned individual on the matter. The originating summons, which has the National Assembly and the Attorney General of the Federation as defendants seek, among many others, a clarification on "whether the appointment of Ali by the President having been made pursuant to Sections 5 and 171 of the 1999 Constitution (as amended) can be subjected to the provisions of the Customs and Excise Act or any other law; whether there is any legal provision that prescribes the wearing of uniform as a condition precedent by the 1st defendant (Ali) in view of his appointment under Section 171 of the 1999 Constitution (as emended).
He said it was the opinion of his lawyers and that of the Minister of Justice and Attorney General of Federation that it would be subjudice for him to appear before the Senate on the pending issues before them which also form the fulcrum of the case before the court.
"Based on the advice from lawyers and briefing from the Office of the Attorney General and Minister of Justice who is also a party in the suit, I won't be appearing before the Senate tomorrow until the court decides otherwise," he said.
Ali also confirmed that there is a total blockage of access to frivolous waivers, reduced or non-payment of duties on imported items by highly placed Nigerians and influential politicians.
Ali said the law is clear on what should be paid by these persons who mostly import exotic cars and luxury goods with the belief that they can always get waivers due to their status. He said many of such cases have been stopped and the items impounded if the affected importers decline to pay appropriate duties.
Senators had on Thursday last week attacked Ali for honouring their invitation without wearing uniform. They therefore asked him to return on Wednesday (today) in complete Customs uniform.
According to the Senators, since Ali is not a sole administrator, he has to dress as Customs CG to appear before them because anybody can wear a mufti and claim to be the NCS boss.
Copyright Ships & Ports Ltd. Permission to use quotations from this article is granted subject to appropriate credit given to www.shipsandports.com.ng as the source.