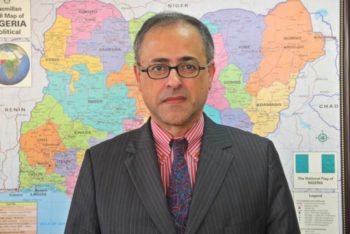 The World Bank Nigeria Country Director, Rachid Benmessaoud, says that the World Bank Group's support to fragile states, including Nigeria through its International Development Association (IDA) has doubled to more than $14 billion.
He made this known in Abuja on Tuesday at a conference with the theme: "Ideas for Action Africa" hosted by the bank, in conjunction with the African University of Science and Technology and the University of Lagos.
Benmessaoud said the focus of the programme was to provide opportunities for the youths to contribute to the narrative shaping Africa's 2030 agenda and also the Sustainable Development Goals (SDGs).
According to him, the Ideas for Action Africa is a powerful platform that gives young people the means to have a say in the international development debate and provide practical solutions to the world's most complex problems.
He said to advance sustainable development and the implementation of the 2030 Agenda, the bank's strategy was to invest more in people and pursue private sector solutions to maximise finance for development.
Benmessaoud revealed that the World Bank's strategy also includes accelerating inclusive and sustainable economic growth through distribution of diversified economic opportunities across sectors and finally, fostering resilience to global shocks and threats.
The World Bank official said: "The underlying challenge remains the need for countries to mobilise domestic revenues, for development to be sustainable. This is because ultimately the ability to implement and sustain these programmes depends on political will of the government.
"Development has to be led by each country with a focus on protecting its most vulnerable and benefitting its poor.
"It is a moral responsibility on the part of everyone to do more to help people lift themselves out of both fragility and extreme poverty, to help stabilise the countries they live in, and to give them hope for the future.
"Against this backdrop, allocation for fragile states under the International Development Association (IDA) has doubled to more than $14 billion.
"With this, we continue to find new and innovative ways to reach the poor and boost shared prosperity."
Benmessaoud urged young Nigerians to put forth their best ideas and be a part of the innovation that is Ideas for Action.
Also speaking, the President, African University of Science and Technology, Prof. Kingston Nyamapfene described African youths as the engine of growth and positive change in the continent.