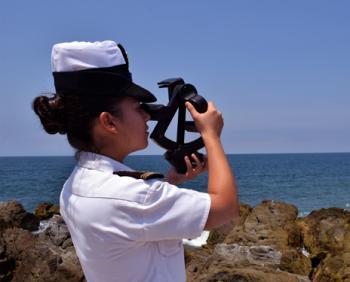 The 2019 World Maritime Day celebration held across the world on Thursday brought attention to the importance of gender equality in the maritime industry and especially the contribution of women within the sector.
World Maritime Day is an International Maritime Organization event celebrated each year on September 26 to celebrate the crucial role that the international maritime industry's has on the global economy. Each year the IMO selects a theme to raise awareness about issues facing the industry. This year's theme of "Empowering Women in the Maritime Community" has the goal of promoting gender equality and empowering women and girls in maritime.
"Empowering women fuels thriving economies across the world, spurs growth and development, and benefits everyone working in the global maritime community in the drive towards safe, secure, clean and sustainable shipping," the IMO said on its website.
According to the IMO, women represent only two percent of the world's 1.2 million seafarers, with 94 percent of female seafarers working in the cruise industry.
"Shipping has historically been a male-dominated industry and that tradition runs long and deep. However, IMO believes that empowering women fuels thriving economies, spurs productivity and growth, and benefits every stakeholder in the global maritime community.
Through its Women in Maritime gender equality and capacity building programme IMO encourages its Member States to enable women to train alongside men in their maritime institutes and so acquire the high-level of competence that the maritime industry demands," IMO sad.
"IMO supports gender equality and the empowerment of women through gender specific fellowships; by facilitating access to high-level technical training for women in the maritime sector in developing countries; and creating the environment in which women are identified and selected for career development opportunities in maritime administrations, ports and maritime training institutes," the organization added.
Copyright Ships & Ports Ltd. Permission to use quotations from this article is granted subject to appropriate credit given to www.shipsandports.com.ng as the source.