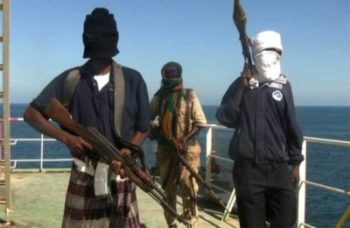 For the second consecutive quarter this year, Nigeria has occupied the number one spot in the world as regards the number of pirate attacks on commercial vessels plying its high seas. According to the report from the International Maritime Bureau (IMB), Nigeria led four other countries in terms of the number of attempted attacks, vessels boarded by pirates, vessels fired upon, hijacked vessels and number of suspicious boats operated by pirates. The most recent attack was against on a Swiss merchant vessel, MV Glarus, about 45 nautical miles southwest of Bonny Island. The vessel, carrying wheat was underway from Lagos to Port Harcourt when it was boarded by pirates, who took 12 of it 19 crew members hostage. Though the number of crew kidnappings has decreased globally from 41 in the second of 2017 to 25 in the corresponding period of 2018, the Niger Delta still remains one of the most dangerous area for shipping in the Gulf of Guinea. Of the 25 crew kidnapping incidents recorded this year in the Gulf of Guinea, six occurred off the coast of Nigeria. In almost half of all the incidents in Nigeria, the pirates and sea robbers were armed with guns.
Admittedly, physically policing the Niger Delta with its vast networks of over 6,000 rivers and creeks is a near impossible task. It was to this end that the Nigerian Navy in 2016 installed the 'Falcon Eye' – a mass surveillance system reportedly designed in Israel. With the help of cameras operated from a command center, the Falcon Eye was said to have the capacity to accurately detect the movement of all vessels on Nigeria's waters. With a range of up to 35 nautical miles from the coast, it uses six electro-optical stations to monitor vessels, aircraft and offshore platforms. Unfortunately, little has been heard about the operation of this project, after billions on Naira has been expended towards its actualization.
Prior to the installation of the Falcon Eye, the administration for President Goodluck Jonathan had in 2011 awarded a multi-million dollars maritime security contract through the Nigerian Maritime Administration and Safety Agency (NIMASA) to a company known as Global West Vessel Specialist Nigeria Limited – a company owned by a former Niger Delta militant, Government Ekpemukpolo alias Tompolo. The contract, which is now a subject of litigation, was fraught with series of controversies and scandals. It achieved little in checking piracy on Nigeria's waters. Available data show that piracy was high at the time the contract was actively executed between 2011 and 2015.
The present administration of President Muhammadu Buhari has also initiated its own version of the controversial Tompolo maritime security contract, which it vehemently opposed while campaigning for office in 2015. An unknown Israeli security company, HLSI Security Systems is the lucky winner of a $195 million (N70 billion) contract to secure Nigeria's waterways. Even before it started its job, HLSI got a princely $50 million as mobilization fee from the Nigerian government. Sadly, little has been heard about the activities of the unknown company as the sea pirates continue to have a field day.
NIMASA has also spent well over N10 billion in signing and resigning MoUs with the Nigerian Navy and the Nigerian Air Force to patrol the nation's waters. A good chunk of the money found its way into private bank accounts, with some top government officials including top military brass now facing prosecution.
It appears certain persons in high government positions have seen Nigeria's recurring sea piracy as opportunity to award contracts and make ungodly fortune. What else could be the explanation for the huge monies spent, and is still being spent, on various contracts purportedly to fight piracy without commensurate benefits to the maritime industry and to the nation?
It is time the Federal Government put an end to this vicious contract cycle wherein some privileged person profit from the country's piracy situation. One way to ensure this is to cancel all these so-called maritime security contracts and instead provide necessary platforms and resources directly to the Nigerian Navy to perform its statutory duties.
We pay for your stories! Do you have a story for Ships & Ports? Email us at tips@shipsandports.com.ng or call 0810 359 4873. You can also WhatsApp us here. We pay for videos too. Click here to upload yours. 
Copyright Ships & Ports Ltd. Permission to use quotations from this article is granted subject to appropriate credit given to www.shipsandports.com.ng as the source.