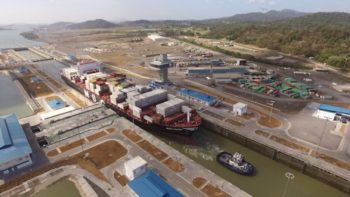 Close to nine months after the inauguration of the expanded Panama Canal the 1,000th neo-panamax vessel has transited the waterway.
On Sunday, 29 March, the Panama-flagged box ship MSC Anzu owned by Mediterranean Shipping Company made the historic 1,000th transit through the new locks, heading northbound from the Atlantic to the Pacific Ocean.
Built in 2015, MSC Anzu measures 299.98 m in length and 48.23 m in beam with a carrying capacity of 9,008 teu. During its transit, the ship called at Panamanian port terminals on the Pacific and Atlantic to discharge and load cargo on the way to its final destinations.
The MSC Anzu vessel is part of the SAWC-USA-NWC service between Europe, the United States and the South America West Coast that was consolidated last year to take advantage of the expanded Panama Canal.   The MSC ANZU transit showed "the industry's strong adoption of the expanded canal and its successful operations thus far," said Panama Canal administrator Jorge L. Quijano.
It is a significant milestone for the expanded canal, which is experiencing a steady flow of traffic – including containerships, and LNG and LPG vessels. Other segments like dry bulk carriers, vehicle carriers, and crude product tankers have also transited through the expanded canal.
The container segment accounts for nearly half the transits through the new locks and represents its principal source of traffic with 53%; while LNG vessels that began transiting the waterway last July for the first time after the new locks inauguration and so far, 5.2 LNG vessels have transited the Canal per week on average, above the original forecast of one weekly transit. As of March 2017, an average of 5.9 neo-panamax vessels transit the new lane per day.
"Although the full impact will be felt gradually over time, we are very encouraged by the success of the expanded canal thus far as trade patterns continue to shift in favour of the route," said Panama Canal's executive vice president of planning and business development, Oscar Bazan.
Major liner services have already re-directed services to the waterway to take advantage of the economies of scale the waterway provides and 13 neo-panamax liner services have been deployed through the new locks, primarily on the US East Coast to Asia trade route.
On 1 April, two additional neo-panamax liner services are expected to follow, bringing the total liner services to 15 – further demonstrating the benefits of the waterway.
"Although the expansion was our largest undertaking since the original canal was constructed, this is merely the first step in bolstering the capabilities of the waterway and the logistics offerings in the country," said Quijano.
Copyright Ships & Ports Ltd. Permission to use quotations from this article is granted subject to appropriate credit given to www.shipsandports.com.ng as the source.