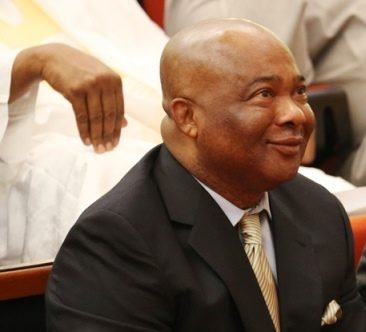 The Special Presidential Investigation Panel for Recovery of Public Property on Monday said it released Senator Hope Uzodinma, who has been accused of complicity in an alleged $12 million Calabar Port channel dredging contract, on administrative bail after he developed high blood pressure in detention.
Chairman of the panel, Chief Okoi Obono-Obla, who confirmed Uzodinma's temporary release on bail, said the lawmaker pleaded to be allowed to return back for questioning on Tuesday.
According to Obono-Obla, the serving senator and governorship candidate of the All Progressives Congress (APC) in Imo State, was released from detention around 12midnight on Sunday.
"We don't want him to die so we have granted him an extension till tomorrow (today) to report to us", Obono-Obla stated, adding that the initial agreement was for the accused lawmaker to report back around 10am on Monday for further grilling.
He said, "Yes we granted him bail to report back today and this morning he was supposed to return by 10am but he requested for us to adjourn the matter till tomorrow that his blood pressure went up.
"We don't want him to die so we have granted him an extension till tomorrow (today) to report to us. We will wait for him, if he doesn't come as we agreed before we granted him bail, then we will know what to do." 
On Uzodinma's alleged denial that he was never arrested by the panel upon his arrival in Abuja from Lagos, aboard an Air Peace, Obono-Obla said, "Well you know that no one will say that his mother's soup is not sweet. The man was arrested. If not why is he begging for extension till tomorrow?
"He was arrested yesterday (Sunday) at the airport about 8:30pm by our operatives and he was kept there till about 12midnight before he pleaded that he should be allowed to go and we conceded because we don't have detention facility.
"We don't detain people as a matter of policy in our panel. But we asked him to report back by 10am today.
"When we did not see him by that time, we went to his house and laid siege there. It was then he started pleading that he was not feeling well and that he will report to us tomorrow (Tuesday). 
"So we granted him that respect. If he fails to report tomorrow then we will take it up. We have already filed charges against him for refusing to declare his assets. This matter has been lingering for the past two years.
"He has tried to play some politics but we are not politicians and we have nothing to do with the politics of Imo state. But this matter has been lingering since 2017 that we started looking for him. He refused to answer our invitation.
"We sent about two invitations to the Clerk of the National Assembly but he did not come.
"So we went to his house and pasted our assets declaration form. That is the first step in our investigation. He refused to fill that form within 30 days as prescribed by the law establishing our panel.
"We now charged him before the Federal High Court. That one is pending. So if he said he didn't arrest him, then it is up to him. But nobody will say that his mother's soup is not sweet", he added.
The Presidential Panel chairman equally confirmed that Uzodinma is facing investigating for allegedly engaging in economic sabotage owing to failure of his company, Niger Global, to execute a contract of $12 million awarded it by the Nigerian Ports Authority (NPA) for the dredging of Calabar Port channel. 
Copyright Ships & Ports Ltd. Permission to use quotations from this article is granted subject to appropriate credit given to www.shipsandports.com.ng as the source.