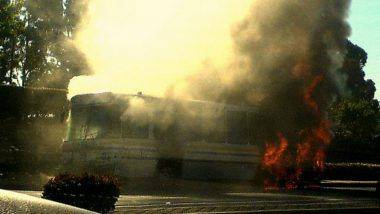 Collision between a bus and a fuel tanker killed at least 19 people in central Iran, state television reported on Tuesday.
The collision, which occurred around 11:15 pm (18:45 GMT) on Monday, triggered a fireball that engulfed both the truck and the bus on the motorway between Kashan and Natanz, more than 200 kilometres (125 miles) south of the capital Tehran.
"Based on preliminary investigations, the tanker swerved to the side, hitting the bus and causing an explosion and fire which killed 19 of the passengers at the scene," Traffic Police Commander, General Mohammad-Hossein Hamidi said.
State television aired footage of firefighters battling the blaze as emergency crews rushed to take the wounded to nearby hospitals.
President Hassan Rouhani said more needed to be done by the authorities to prevent road deaths.
"Such tragic, irreparable road accidents indicate that there are technical, managerial and supervisory shortcomings," Rouhani said in a statement on his official website.
Authorities "must find a fundamental solution so that no one witnesses such tragic incidents again."
Iran has one of the highest road death rates in the world, with health ministry officials reporting around 16,300 killed in the Iranian year that ended in March and a further 336,000 injured.
Among the main causes are reckless driving, the poor quality of the road network, particularly in rural areas, and the large number of domestically manufactured vehicles equipped with outdated technology due to US-led sanctions.