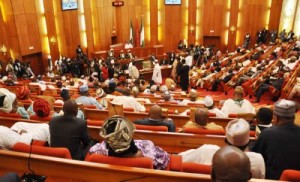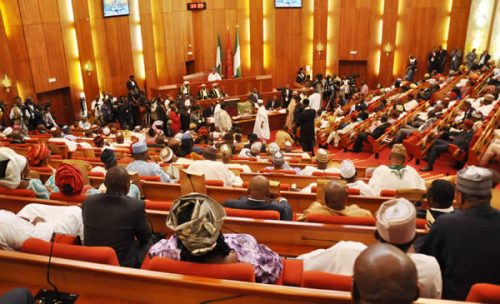 By Jite Eriabie 
The Senate has invited Finance Minister, Kemi Adeosun and her Budget and National Planning counterpart, Senator Udo Udoma to brief members on the 2017 budget implementation.
Senate President, Bukola Saraki disclosed this Tuesday in his welcome address to senators after about two months recess.
Saraki said that the invitation of the two ministers became necessary in order for senators to be abreast with the level of implementation of the 2017 budget.
The Senate President also asked senators to always stand for the unity and indivisibility of the country as well as condemn in the strongest term all forms of violence.
Saraki said, "By the first week of October, we expect to begin the review of the implementation of the 2017 budget. To set the stage for this, we expect to invite the Ministers of Finance and Budget Planning to come and brief the Senate on implementation so far. Nigerians want to see a more significant improvement in the level of implementation of the budget this financial year. Let me therefore use this opportunity to call on all our standing committees to begin the process of putting together their oversight plan for a close and proper review of the performance of the 2017 Budget. In the same token, we must remind ourselves of the initiative we started and for which we have significant stride – that is, the Made in Nigeria initiative. It is time to enter the next stage of this initiative; the oversight of implementation to ensure that the policy yields expected gains.
I will like therefore to see the committees demonstrate proactivity and readiness to engage government to ensure that at least a significant portion of our annual budget is fully dedicated to local procurement. All committees of the Senate must be involved in this and find better channels to engage our people and enable feedbacks.
"However, for these efforts to be successful it is required that we maintain peace and political stability. Hence the need for all of us to fight to keep Nigeria united and prosperous.
"Distinguished colleagues, a house divided against itself will not stand. More than ever before, we need to stand for the unity and indivisibility of our country. We must condemn in the strongest possible terms all forms of violence as a form of engagement. The Constitution and laws have laid down tools and procedures for us to push through our interest as all democratic nations do. Our nation is blessed with exceptionally talented and beautiful people, we are collectively strong and indomitable and it is time for all of us to stand up for our nation. Our dream of a virile nation must keep us motivated and this dream is already at the horizon."
The Senate President noted that they have in the last two sessions of their term devoted enormous time, working hard on critical legislation, some with historical essence and others with relatively high-level implications for enhancing the welfare of Nigerians and putting food on their tables.
He expressed happiness that some of the bills which has since become law have already started yielding expected gains.
Copyright Ships & Ports Ltd. Permission to use quotations from this article is granted subject to appropriate credit given to www.shipsandports.com.ng as the source.