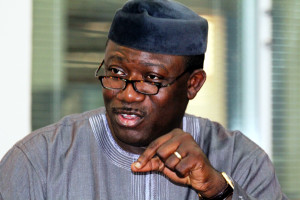 Minister of Mines and Steel Development, Dr. Kayode Fayemi, has assured Nigerians that 2017 will be a year of greatness, buoyancy, fulfillment and accomplishments.
The former Ekiti State governor berated his successor, Ayodele Fayose for coming out with doomsday predictions about some evils that will befall the country incoming zear.
Speaking after a special Christmas thanksgiving service held at St. Martins' Catholic Church, Isan Ekiti in Oye Local Government Area, Fayemi. said, "Fayose risked being the sole beneficiary of of his latest unsavoury predictions" for the country and its inhabitants.
Fayose had in his last Friday's 22 shocking predictions he claimed to have received from God after praying on a mountain revealead said that a former Head of State/President would die and that there would be more hardship and poverty in the country.
He also predicted that the performance of the 2017 Budget would be the worst in history, more ministers will lose their jobs, a dollar will exchange for N600, a major political party would emerge to dislodge the All Progressives Congress (APC) from power, among others.
The ministe opinedr that it was insincere for Fayose to roll out his purported 22 predictions without foretelling anything good about a country except doom, hardship and misery for fellow countrymen.
According to him, "If someone has made 22 predictions about his own country and none is positive or good, you can be sure the predictions are for the person making them. For me, 2017 will be a year of astounding buoyancy, greatness, fulfillment and accomplishments.
"It is true economic recession has made things difficult for everyone in the country, but we can see that is already giving way to noticeable stability which will soon yield results across sectors of the economy."
Fayemi said the Federal Government is working hard to fix the economy and make life easier for Nigerians in the key sectors of the economy urging for more patience.
He assured Nigerians that his ministry would make appreciable progress not only in terms of revenue generation but equally in respect of creating well-charted and steady path for the country to source income through non-oil resources of the country.
Fayemi explained that the ministry would execute policies in the solid minerals sub-sector that will generate thousands jobs for Nigerians and breathe more life into the nation's economy.
Also at the church service were his wife, Erelu Bisi, their son, Folajimi, and other political functionaries of his administration.
Copyright Ships & Ports Ltd. Permission to use quotations from this article is granted subject to appropriate credit given to www.shipsandports.com.ng as the source.