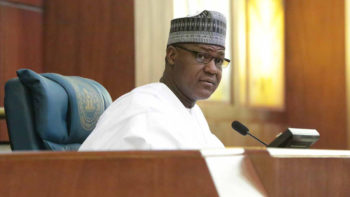 The absence of the Minister of Mines and Steel Development, Kayode Fayemi, at the ongoing debate on the Ajaokuta steel company, has drawn the ire of lawmakers at the House of Representatives.
Also absent at the debate which is taking place at the House of Representatives is the Finance Minister, Kemi Adeosun.
Both ministers were invited to the debate which is being presided over by the Speaker of the House, Yakubu Dogara.
Shortly after the debate began, Dogara asked if the ministers were around.
He then read a letter dated February 16, which the house wrote to the ministry of mines and steel development, inviting the minister.
He said the ministry replied about two weeks after and in the reply, signed by its permanent secretary, the ministry indicated that its officials would not be able to attend the event.
Quoting the permanent secretary, Dogara said the reasons given in the reply was that Fayemi, as well as the minister of state, were slated for official engagements on the day of the debate
"This ministry views this debate as a strong legislative intervention in efforts to revive the company. It is eager and willing to work together with the house to bring back the company's progression," Dogara quoted the permanent secretary as saying.
He regretted that despite a second letter written to the ministry, insisting their presence is important, none of the ministry's officials attended the event.
"Boycotting this debate lends credence to the allegation against some top officials of the ministry of the plan to concession the Ajaokuta steel company," Dogara said.
Some of the lawmakers who spoke afterwards expressed anger and frustration that the government officials "are crossing the line".
Majority leader of the House, Femi Gbajabiamila, berated the ministers for failing to appear.
He said, "There are allegations against them (about reported move to concession the steel company) and this debate provides opportunity for a fair hearing.
"There seems to be a lot more than we know. So, I think we should move from sectoral debate to a powerful investigate hearing."
Alhassan Doguwa from Kano state said the ministry's officials were undermining the "invitation" of the house.
He described Fayemi and Bwari as "ministers who are too busy to attend to events that are for the welfare of the people."
"This is not about APC or PDP. This must not continue, so we definitely have to take action on this," he added.
The lawmakers also constituted an ad-hoc committee to probe the steel company and the allegation that the ministry plans to concession it.
The house later passed a vote of no confidence on Fayemi and Abubakar Bwari, his minister of state counterpart.   
Copyright Ships & Ports Ltd. Permission to use quotations from this article is granted subject to appropriate credit given to www.shipsandports.com.ng as the source.