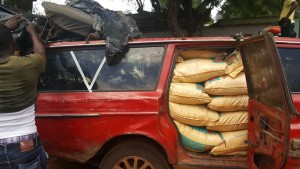 A clash between Customs officers and alleged rice smugglers along Daura- Katsina road has left three people injured and one in critical condition.
The smugglers were accosted by men of the custom command around Tuma district which led to the clash.
Witness accounts differ with some saying the customs officer barricaded the road and shot sporadically killing one and injuring others.
Other witnesses said one of the smugglers got hooked by a pole as he tried to evade arrest.
However, confirming the incident, the Controller of the Katsina/Kaduna customs command Mohammad Tanko said, "The smugglers got confused when they were rounded up by our men and started hitting themselves as they tried to run."
"We were able to apprehend all seven vehicles loaded with smuggled rice."
But he denied any killing or shooting.
"The matter has been reported to the police and the injured has been taking to hospital receiving treatment adding that as soon as he gets better we are prosecuting the matter to serve as deterrent to others," he said.