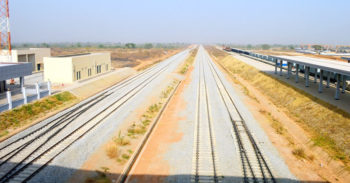 Minister of Finance,  Kemi Adeosun, yesterday, told the Senate that the foreign loan of $5.8 billion offered Nigeria by China EXIM Bank, was tied to a very stringent condition that when the job commences, Chinese construction firms must be the ones that would be engaged to execute the contract.
Speaking, when she appeared before the Senator Shehu Sani (APC, Kaduna Central) led Senate Committee on Local and Foreign Debts, Adeosun noted that Chinese EXIM Bank loan was highly competitive, hence, the approval was based on first come, first serve basis, stressing that Nigeria had almost lost credibility in accessing loans because of lack of payment of counterpart funds in the past, adding that President Muhammadu Buhari's state visit to China in 2015 however, helped in restoring credibility with which Nigeria was working on.
Meanwhile, the Senate, yesterday said that the Chinese Construction Firm working on Nigeria Railways must make use of Nigerian workers at all levels in the construction works, just as it insisted on compliance with local content law.
Senator Sani who insisted on compliance with the local content for the construction, said, "One of the fundamental impediments to our developmental, economic development is the problem of infrastructure and railway is a critical infrastructure in any developmental plans, programmes and policies.
The investment of such amount of money – about $6bn – in the railways will make it easier for movement of good and services within and outside the country.
"The rail line from Lagos to Kano, from Lagos to Calabar and from Port Harcourt to Maiduguri through the South-East are key transport arteries of the country for which we need to give all the necessary support.
"Our concern, as we have raised it here, is that for China to borrow $6bn and for Chinese companies to execute the contracts, that is an issue. We want a situation where local content for the critical parts of the projects are taken into consideration.One issue being raised also is the fact that these loans will also be for projects that will create jobs. We will not like to see Chinese labourers also coming in to work.
"Another issue has to do with the quality of the projects. If we are going to borrow such huge amounts of money, and these loans come with a lot of interests, then, the trains and the rail lines that will be constructed in Nigeria should be ones at match with those of Europe, the United States and China. We will not like to leave behind a pile of debts for future generations without projects that are commensurate with the loans.