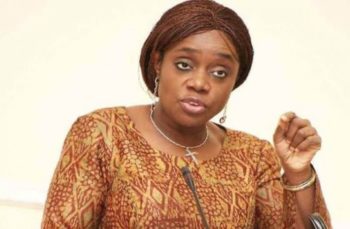 The Minister of Finance, Kemi Adeosun, has reacted to World Bank's offer on helping countries monitor their debt levels, saying Nigeria does not need the World Bank to monitor its debt.
The minister speaking with journalists on the sidelines of the ongoing Spring meetings of the International Monetary Fund and World Bank Group in Washington D.C stated that Nigeria has the Debt Management Office (DMO), various committees and 185 million citizens as monitors.
She said, "We don't need the World Bank if they want to come and help us, great but we don't need them."
Adeosun further said that current administration has no apologies for obtaining loans to shorten the recession that ended last year.
In 2016, Nigeria's economy slipped into its worst recession in 29 years and the government deployed various debt instruments like Eurobonds, Savings bond and Sukuk to raise funds.
She said, "There were two options; one was cut back, lay people off and wait for oil prices to recover or be more aggressive, expand your budget, take on more debts and invest in infrastructure in hope that you will get growth going to develop more revenue.
"We've expanded our budget, we pumped money into the economy, we made sure recession was not prolonged. We are now back into growth, we need to accelerate that growth and focus on revenue mobilization which in turn will reduce our debt pressures.
"If we were still in recession, we'd have far bigger problems. I think what people haven't realised is how much work had to be done to make sure that that recession was as short as possible because that would have caused real pain for the people. We shortened it, we had to borrow to do so and we make no apologies for that."