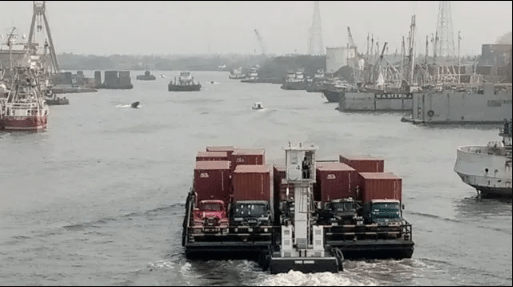 About 750,000 containers were moved from the Lagos ports by barge in 2020.
Cargo movement by road was almost impossible last year due to the intractable traffic in Apapa, forcing many consignees and terminal operators to adopt the use of barges in movement of containers out of the port.
Disclosing this in a chat with SHIPS & PORTS, President, Barge Operators Association of Nigeria, Kelikume Edeme, said an average of about 2,000 TEUs were moved by barge daily.
He said, "Every barge moves about 40 TEUs minimum and we have roughly about 50 barge trips day and night which is about 2,000 TEUs on a daily basis. If you multiply that by 365 days, that is almost 750, 000 TEUs that have been moved by barge last year."
Edeme said the Nigerian Ports Authority (NPA) has granted license to a total of 86 operators to perform barge operations at the ports as part of efforts to curb proliferation of illegal operators.
On the standard operating procedure for barge operation recently introduced by NPA, he said, "The new standard operating procedure is a step in the right direction. It is part of NPA procedure every year to review the list of operators based on their criteria and re-issuing of licenses. So far 86 operators have been licensed by NPA but any who get a license but don't meet up with the requirement will not be renewed by NPA.
"The SOP is all about efficiency at the port level which is where NPA has more control. NPA doesn't control all the jetties but it has more influence and control over the ports. So what they do is to ensure there is more efficiency around the port and also the channels, quality of the barge, standard of the barge and the standard of the crew."