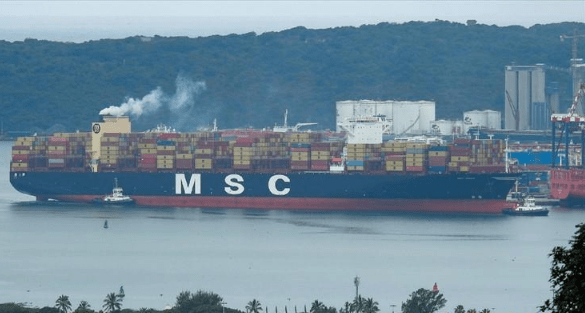 An MSC containership has become the latest giant boxship to lose containers overboard in the Pacific Ocean.
The MSC Aries lost about 41 containers overboard as it sailed from Long Beach, California to China on January 29. MSC has since confirmed the incident.
"MSC Aries, deployed on the Sequoia service on voyage US053S, met with heavy weather while en route from Long Beach to Ningbo," MSC said in a statement, as reported by Splash247.com. "A limited number of empty containers were impacted and initial reports from the vessel suggest that no cargo was spilled overboard."
MSC reports that the vessel is expected to berth at the Port of Ningbo on or around February 3, where a cargo assessment will take place.
The incident is at least the fifth container loss incident to be reported in the trans-pacific since November 2020. One Aquila, One Apus, Ever Liberal, Maersk Essen all suffered container loss incidents. The worst incident being the MV One Apus which lost nearly 2,000 containers overboard on November 30.
The MSC Aries is the only one that was returning to Asia at the time and the containers lost were reported to be empties.
The incidents have led to increased calls for an urgent review of container lashing practices and stack height restrictions.
MSC Aries is a 14,300 TEU-capacity containership built in 2020 and registered in Portugal.