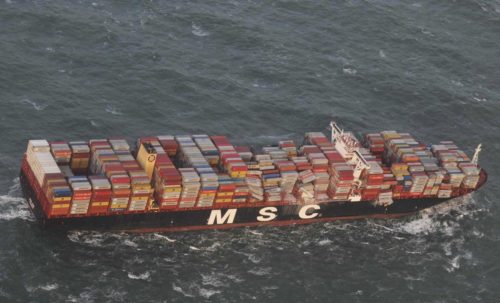 Mediterranean Shipping Company (MSC) and Dutch authorities have found 238 of the 281 containers that fell overboard the MSC Zoe on January 2, 2019. 
Dutch public works and water management department Rijkswaterstaat said most of the containers were spread over a length of 23 miles above the Dutch municipalities Terschelling, Schiermonnikoog and east of this line.
A third party utilizing three vessels with sonar, including the MS Arca measuring and research vessel from Rijkswaterstaat, is still on the lookout for the remaining 43 missing containers. 
The Dutch Coast Guard is also searching for the missing units from air.
Germany's Central Command for Maritime Emergencies said that search efforts were being hampered by inclement weather conditions.
Rijkswaterstaat said two of the containers were carrying hazardous substances – one with 25kg bags of dibenzoyl peroxide while the other is loaded with 1400kg of lithium batteries.
According to the Dutch authorities, "Several bags of dibenzoyl peroxide have been found, which makes it clear that this container has been opened." 
However, it said health risks of dibenzoyl peroxide are limited as long as the packaging remains intact.
The location and condition of the container with lithium batteries is still unknown.
Once the location of all the containers is known, the recovery company would remove the units from the water. 
The duration of the recovery efforts will depend on the weather conditions, the depth at which the containers are located and the location in the traffic lane, Rijkswaterstaat said.
Copyright Ships & Ports Ltd. Permission to use quotations from this article is granted subject to appropriate credit given to www.shipsandports.com.ng as the source.