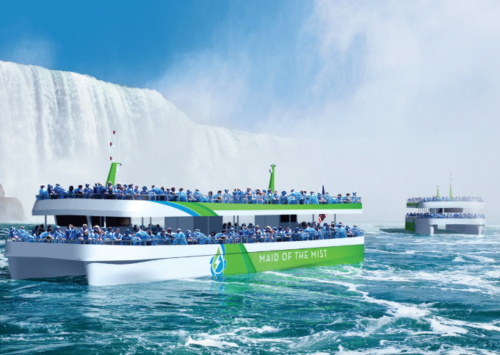 ABB has been selected to provide zero-emission technology for the first two all-electric vessels ever built in the United States.
As informed, ABB will supply an integrated power and propulsion solution for the newbuilds, including lithium-ion battery packs and an onshore charging system, enabling sustainable operation.
The two new passenger vessels sailing on pure electric power were ordered by Niagara Falls tour operator Maid of the Mist and are currently under construction in Wisconsin.
In mid-May, the modules will be transported to Niagara Falls and lowered onto the Maid of the Mist dry dock and maintenance facility for assembly. Following completion of construction, launch and certification, the new vessels are expected to be placed into service in mid-September, replacing the company's two older vessels.
As explained, the new vessels will benefit from zero-emission technology when they start operating later this year, allowing passengers to experience Niagara Falls undisturbed by engine noise, vibration or exhaust fumes from a conventional diesel engine.
"We have chosen ABB to support us in our journey towards more sustainable operation," Christopher M. Glynn, president of Maid of the Mist Corp., said.
"Maid of the Mist's decisive move towards e-mobility signals a new era in the future of transportation and complements ABB's commitment to power the world without consuming the earth," Peter Terwiesch, President of the Industrial Automation business at ABB, commented.
"Reducing emissions at Niagara Falls is not only important for the natural landmark, but also proves that the technologies enabling sustainable mobility are already available today," he added.
Each of the vessels will be powered by a pair of battery packs with a total capacity of 316 kWh, split evenly between two catamaran hulls. Having two fully independent power systems on board will increase the resilience of operations by creating redundancy, as explained by ABB.
The vessels will charge between every trip while passengers disembark and board.
The batteries will be charged using hydropower – the largest single renewable energy source for electricity generation in the US, which accounts for 7% of the country's total utility-scale electricity generation. The use of locally produced renewable power will make the energy cycle for the operation of the new Maid of the Mist vessels entirely emission-free.