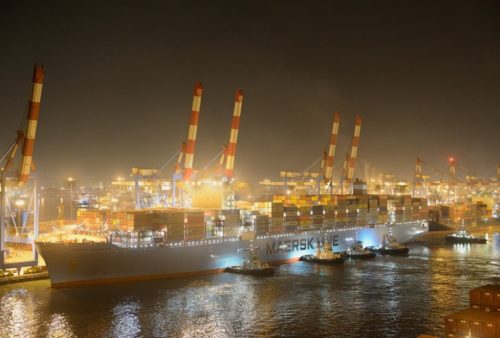 Boxship Maersk Hamburg became the largest ship ever to arrive in Israel as it berthed at Haifa Port on May 2.
With a capacity of 15,300 TEU, a length of 354 meters, and a draft of over 15 meters, the Maersk Hamburg was able to enter Haifa after the completion of dredging works by the piers of the Carmel Terminal.
The offloading of containers from the 54-meter-wide ship was enabled by the recent acquisition of two new STS cranes.
The Singapore-flagged boxship called at Haifa on a leg of a 2M Alliance line, which connects China and South Korea with ports in the Mediterranean Sea. Now that the upgrades at the Haifa Terminal have been completed, ships of this size will stop in Haifa on a weekly basis, according to the port authority.
Maersk Havana, the next 2M ship, is already en route to Haifa where it is expected to arrive on May 9, according to available AIS data.
As of May 7, the 2019-built ship was at Port Said, Egypt. Maersk Havana is scheduled to be in Haifa on the Israeli Independence Day.
"Ships of this size, which will now arrive in Haifa, do not come until they thoroughly examine the physical capabilities of the port to receive them, and the operational efficiency to minimize their stay in port," Mendi Zaltzman, Haifa Port Company CEO, commented.
"The arrival of this ship, the first ship to exceed a capacity of 15,000 TEU, was planned for a long time."