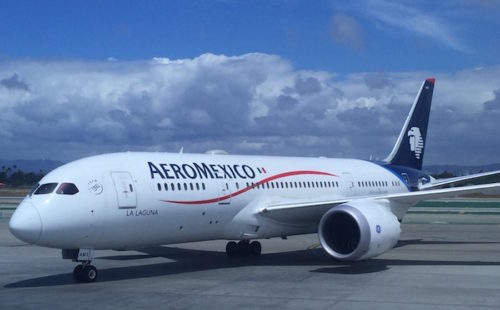 Unionized pilots of Mexico's largest airline, Aeromexico, on Tuesday said they plan to strike on Oct. 1 over the airline's decision to suspend some employee benefits after a crash in northern Mexico in late July.
In a preliminary report last week, Mexico's civil aviation agency said bad weather likely caused the crash that injured dozens of people, adding that there was no evidence of human error or mechanical failures.
The agency, however, found that a pilot in training, who was not authorized by the company, briefly served as copilot during the takeoff.
In response, Aeromexico last week said it had fired the three pilots who were in the cabin and announced new rules for crew, including the elimination of a provision that allowed pilots to fly in the cabin for free.
Pilots' union ASPA, whose members include Aeromexico, said that the provision is critical for pilots who use it to travel from their homes to the airline's base.
"Aeromexico decided unilaterally to suspend the benefit of Crew Flying in Cabin, among other violations of the collective contract, affecting a critical clause for around 2,400 pilots," the union said in a statement, adding that such benefits are common among other airlines.
The company countered late on Tuesday that it was not violating the contract since pilots could still fly in passenger seats outside the pilot cabin.
"They, like the rest of eligible crew, continue using the aforementioned benefit," Aeromexico said in a statement.
On July 31, A Mexico City-bound Embraer 190 passenger jet operated by Aeromexico smashed into scrubland near the runway shortly after take-off during what passengers have described as strong winds, hail and rain.
All 103 passengers and crew survived by evacuating from the plane  before it was engulfed by flames.
Aeromexico shares closed down 1.53 percent on Tuesday.
Aeromexico, a member of the SkyTeam alliance, operates more than 600 flights daily to destinations in Mexico, the United States, Canada, Latin America, Europe and Asia.
Agency Report