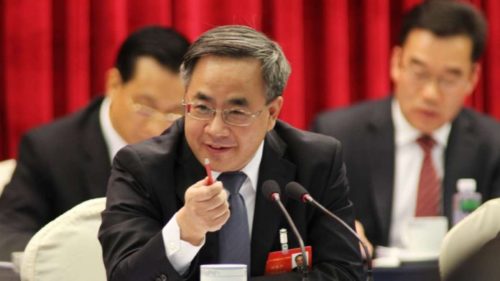 China on Wednesday warned that protectionism threatens global growth and cautioned "individual countries" against isolationism, in a veiled reference to the deepening trade spat between Washington and Beijing that is being closely watched across Asia.
The comments from China's vice premier come as the world's top two economic powers edged closer to an all-out trade war after imposing tit-for-tat tariffs on billions of dollars of imports.
Tensions between the UN and China were heightened last week when US President Donald Trump threatened to hit all China's exports to the US
worth more than $500 billion as he doubles down on the "America First" agenda he says aims to protect jobs and industries from overseas competition.
But without directly naming Trump or the United States, Vice Premier Hu Chunhua warned against countries going it alone and upending the globalised trading system.
"Some individual countries' protectionist and unilateral measures are gravely undermining the rules-based multilateral trading regime, posing a most serious hazard to the world economy," Hu said at the World Economic Forum (WEF) in Hanoi.
"Self-isolation will lead nowhere and only openness for all represents the right way forward," he added.
The trade row has dominated discussions at the WEF where Southeast Asian leaders have made the case for fewer trade barriers as America retreats from the region under Trump, who has decried trade deficits in the region.
The Association of Southeast Asian Nations (ASEAN) "is working with like-minded partners to strengthen the rules-based international system," Singaporean Prime Minister Lee Hsien Loong said.
"It underpins growth and stability, but is under pressure."
The trade tussle between Washington and Beijing is being closely watched across Southeast Asia where some export-focused economies may be set to gain from the fallout.
Rising labour costs in China have already precipitated a push into countries such as Vietnam and Cambodia, where Adidas shoes, H&M T-shirts and Samsung phones are made on the cheap.
But the trade rumble has accelerated that process, with several Chinese firms turning to the region to produce items from bike parts to mattresses in a bid to avoid US tariffs.
Agency Report