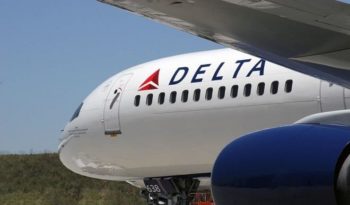 Nigeria's Accident Investigation Bureau (AIB) said on Wednesday that crew of Delta Airlines Airbus 330–200 that caught fire mid -air after taking off from the Murtala Mohammed International Airport in Lagos cannot leave the country until they obtain incident statement.
AIB's Commissioner and Chief Executive Officer, Akin Olateru disclosed this at a press briefing in Lagos.
Olateru said the airline's flight engineers cannot carry out any repairs on the aircraft because it has become the subject of investigation.
He said the AIB is taking the step as part of its obligations to protect the aircraft under investigation.
Olateru said Delta Airlines has not officially report the incident to the AIB, a development that contravenes Nigerian laws.
He said the AIB and Nigerian Civil Aviation Authority (NCAA) were collaborating on how to carry out comprehensive investigations into the cause of the aircraft engine fire.
He berated the airline for failing to notify the AIB on the incident as the country of occurrence in line with the regulations of the International Civil Aviation Organisation (ICAO).
Olateru said: "When you have this kind of thing, we take possession of the aircraft and nobody goes near it. The aircraft is under safety investigation. That is what is required by law but until they make a formal report, then we are expecting them.
"I was made to understand they have appointed two investigators to work with us and they should be arriving this afternoon, I was made to understand.
"US NTSB notified us that Delta has appointed two investigators to join us and NTSB is nominating one person. Their representative too will be joining to assist us on this investigation.
"There is no competition or rivalry. For your information, I was notified by the DG of NCAA on the incident."