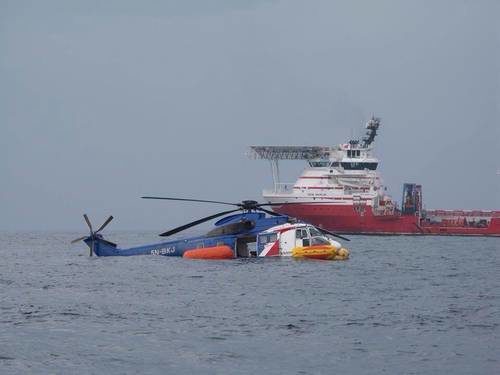 The Accident Investigation Bureau (AIB) on Monday released the final
report on four air accidents, including the Bristow Helicopters' Sikorsky S-76C+ helicopter crash that occurred in August 2015 at Oworonshoki area of Lagos.
According to the AIB Commissioner, Akin Olateru, the Bristow accident; occurred when the system that controlled the stability of the aircraft malfunctioned.
He said the Sikorsky S-76C+ helicopter, with registration number 5N-BGD, crashed into the Oworonshoki lagoon with 12 persons onboard, including two crew members, shortly before landing at the Murtala Muhammed Airport, Ikeja.
Olateru said there were six fatalities, including the two pilots, while six persons onboard sustained serious injuries.
He said, "The separation of the Forward Servo Clevis Rod Assembly from the bearing and Jam nut (Bell Crank Assembly), which is part of the Cyclic Control System responsible for stabilising the altitude of the helicopter made the aircraft uncontrollable.
"The helicopter experienced sudden un-commanded pitch up, yaw and roll for about 12 seconds until it impacted water at about 3:31 pm. The pilots were neither able to make any form of distress call to Air Traffic Controllers, SEDCO Express rig or communicate with the passengers before impact."
Olateru noted that the surviving passengers reported that the flight was normal until the helicopter suddenly spiralled, descended and impacted the waters.
"Rescue operation was swift, prompt and carried out by local fishermen, who were in the area. There were six fatalities, including two crew members and six seriously injured passengers. The crew members were recovered the following day. The helicopter was destroyed, but there was no post-impact fire," he added.
The bureau in its sole safety recommendation on the accident advised the Sikorsky Aircraft Corporation to redesign the affected control pushrod assembly by introducing wire lock or lock pins as safety features between the jam nut and the pushrod to enhance better security and safety.
It also advised the Nigerian Civil Aviation Authority to ensure that helicopter operators provide full weather report for helicopter operations.
The AIB also released the accident report on Pan African Airlines Nigeria Limited Bell 412 EP Helicopter with the registration number 5N-BDZ, which crashed near SEDCO Energy Platform on July 26, 2004, a few minutes after takeoff.