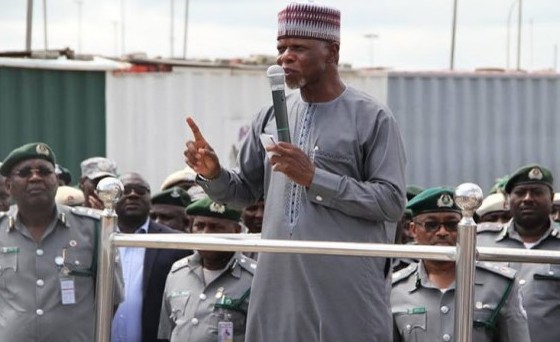 The Nigeria Customs Service (NCS) has cancelled the promotion exam for a total of 1,164 officers earlier scheduled to hold in Abuja on Monday.
129 Deputy Comptrollers, 307 Assistant Comptrollers, 538 Chief Superintendents of Customs and 190 superintendents were expected to sit for the exam.
The NCS, in a memo dated October 17, 2018, stated that the promotion will be based on merit as determined by competitive examination.
The memo had directed the candidates not to come with any form of writing materials including biros, laptops and tablets except the duty forms signed by their Controllers or sectional heads, warning that any person caught cheating or involved in any form of examination malpractice or act of indiscipline will be severely sanctioned as stipulated by the Customs and Excise Management Act (CEMA).
The NCS, it was gathered, had engaged the Joint Admission and Matriculation Board  (JAMB) to conduct the test in order to give credence and transparency to the exercise.
The NCS, SHIPS & PORTS DAILY gathered, had postponed the promotion exam abruptly after all the officers arrived at the examination centre without giving any reason.
Some of the affected officers, who spoke with SHIPS & PORTS DAILY, expressed displeasure over the sudden cancellation of the exam even as they blamed the development on lack of preparedness by the NCS management.
"Imagine that officers travelled from all parts of the country with all the risks involved for the exams, only for them to say they have cancelled the exam. 
"Up till now, no date has been given for the exam yet we will have to pay for flight and accommodation to our respective states to come back again," one of the affected officers, who does not want his name in print for fear of victimization by the Customs management, said. 
Another officer said, "We got information that it is due to some technical issue. The jamb officials want the exam questions to be uploaded to their system yesterday (Sunday) but the ACG in charge wants the scripts to be uploaded on the day of the exams (Monday) for fear that the exam questions will leak. This is what you get when you don't have adequate preparation for an exercise that has been in the notice for weeks." 
When contacted, Public Relations Officer of the NCS, Joseph Attah confirmed that the promotion exam has been put on hold "until further notice". 
According to him, "This is not the first time promotional examination will be cancelled. We can call them again tomorrow or next week to come for it but until we dot the Is and cross the Ts, all I can say is that it has been postponed. 
"A new date will be communicated to the officers in due course."