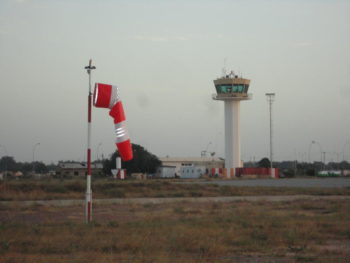 The Federal Government has attributed the absence of Low-Level Windshear Alert System (LLWAS), at the airports to some of the crashes recorded in Nigeria.
Some of the air crashes that occurred in Nigeria caused by Windshear are; the Sosoliso aircraft which crash landed in Port Harcourt on December 10th 2005 and the ADC aircraft which crashed while attempting to take-off from the Abuja airport on 29thOctober 2006.
The ADC crash recorded 96 fatalities, including the Sultan of Sokoto, Muhammadu Maccido.
To, however, forestall crashes in the future, the Federal Government yesterday commissioned the Low-Level Windshear Alert System (LLWAS), at the Umaru Musa Yar'Adua International Airport in Katsina.
The newly installed facility has the ability to detect dangerous wind shear that drops aircraft at low altitudes.
With the installation, 13 airports across the country now have the windshear alert system. The airports with LLWAS are; Abuja, Benin, Calabar, Enugu, Ilorin, Kaduna, Kano, Lagos, Owerri, Port Harcourt, Sokoto and Yola.
Speaking in Katsina during the Commissioning of the facility, the Minister of State for Aviation, Hadi Sirika said: "weather phenomena generally affect air navigation and windshear is one of the most hazardous weather events to aircraft and windshear occurs when the speed and or direction of wind changes abruptly. It is particularly dangerous during takeoff and landing when the aircraft is at low altitudes.
On the negative impact of windshear to flying, Sirika said: "a recent study by the Accident Investigation Bureau (AIB) and NiMet has shown that this phenomenon is prevalent in every part of Nigeria.
Reports from the AIB have also indicated that some of the unfortunate air crashes in Nigeria have been linked in one way or the other to windshear.
"The installation of LLWAS at airports in Nigeria is, therefore, a right step towards

achieving

and sustaining safety in the Nigerian airspace. Aviation safety and security are top priority issues for the present government.
The successful installation of LLWAS at 13 airports in the country by NiMet is therefore in consonance with the aviation safety policy of this administration.
He also hinted that NIMET has procured and installed other weather monitoring equipment including Meteorological image receivers.
The minister also noted that NIMET will soon commence the provision of weather and climate services to support activities in agriculture, water resources an environmental management in Katsina state.
Also speaking, the Director General of NiMet, Anthony Anuforom, said with the installed facility, it will be possible to detect windshear around an airport and issue early warning to the pilots that will enable them take necessary safety precautions and avert crashes.
He  further explained that the windshear at the Katsina airport has the capacity to detect calm, steady winds, wind shifts in relation to the runway, wind gusts, sustained divergent winds, (which indicate windshear), or strong and sustained divergent winds (indication of microbursts) around the airport."
Anuforom also expressed optimism that with adequate funding, LLWAS would be installed soon in all the airports.