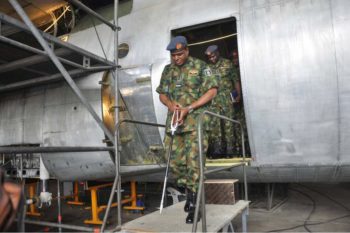 The Nigerian Air Force (NAF), has restated its commitment to flush out regrouping militants in Lagos and the country as a whole.
The Chief of Air Staff, Air Marshal Sadique Abubakar, reiterated this while speaking with reporters at the inauguration of some buildings for its personnel at 041 Communications Depot, Shasha in Lagos.
Abubakar said the Air Force will continue to flush them out just like it has always done.
He said, "We have been in Lagos, Taraba and other states in the country. Very soon, something is going to be worked out which will involve not only the Air Force but all military formations.
"Our commanders are giving us all the inputs. Just like we flushed them before, we are going to continue to flush out militants with the support of other security agencies."
The Airforce chief said the force had recruited 7,000 personnel in the last three years, adding that new helicopters and aircraft were also acquired.
He said, "Professionalism is not just about equipment and training but most importantly, about the human beings because a human being is the most important resource.
"The whole essence is to ensure that Nigeria and Nigerians are secure and be able to go about their business without fear."