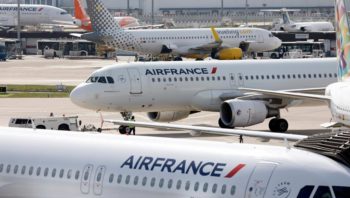 Air France's French unions on Tuesday called on management to resume talks over a pay dispute four days after the Chief Executive's surprise resignation sent the strike-hit carrier deeper into turmoil.
Pilots, cabin crew and ground staff in France were on strike for a 15th day since February on Tuesday and Air France said one in five flights would be cancelled.
The airline estimates the industrial action has so far cost it €300 million ($356 million).
Unions said on Monday they would not renew their strike notice, meaning no further strikes are planned for now.
"Air France management must now hear the demands of a majority of employees. The inter-union groups is asking management to return to the negotiation table in the coming days," a group of 10 French unions said in a joint statement after a meeting on Tuesday.
"The fight is not over and the ball is now in the management's court!"
Dutch union representatives said on Tuesday that Dutch carrier KLM would have to stick with its partnership with Air France even though the French airline is under increasing pressure from strikes.
Shares in parent Air France-KLM closed nearly 10 percent lower on Monday after striking airline staff rejected a wage deal offered by managers and CEO Jean-Marc Janaillac said on Friday he would step down on May 15.
They jumped at the open on Tuesday but shed most of their gains later.
French Transport Minister Elisabeth Borne said on Tuesday that the conflict was "costing a lot of money".
"I am concerned for the future of Air France and I think that all those who are attached to this beautiful company can be," she told Franceinfo radio.
"Everyone should be aware that Air France is playing in a global, European competition where its competitors are more competitive," she said.
Asked about a risk for the alliance with KLM, the minister said: "KLM partners are very concerned about this situation."
Janaillac accused the pilots' unions, in a letter published in La Tribune newspaper, of deliberately creating a deadlock and urged them to resume talks after a "destructive conflict".
Air France had offered workers a pay rise of 2 percent in 2018 and a further 5 percent over the following three years, but French unions, which have demanded 5.1 percent this year, have complained management is not serious about talks.
After negotiations reached deadlock, Janaillac called a vote last Friday, the results of which went against him.
Janaillac had been CEO for less than two years, running into the same union resistance to reform as his predecessor. His exit raises questions over Air France's ability to cut costs to compete with Gulf carriers and low-cost airlines.
The French government, the national carrier's largest shareholder with a 14 percent stake, has said it will not ride to the rescue.
Agency Report