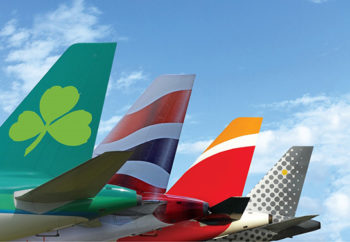 The Chief Executive Officer of British Airways-owner, International Airlines Group (IAG), Willie Walsh, said on Tuesday that air traffic control strikes are more of a threat to European airlines this year than a rise in fuel prices.
Global airlines have slashed their forecast for industry profits in 2018 due to a rise in fuel costs, but in Europe, there is an additional threat to profits from the cost of flight cancellations associated with air traffic control (ATC) strikes.
"From a European context, the most impactful challenge is ATC strikes and the ongoing ATC environment which is a mess," Walsh told the CAPA-Centre for aviation summit in Sydney.
"It's destroying traffic through Europe."
European airline industry body A4E has estimated the economic cost of ATC strikes in the European Union was €13.4 billion ($15.7 billion) between 2010 and 2017.
Ryanair, a rival European airline, said earlier on Tuesday that ATC strikes and shortages caused it to cancel 1,100 flights in May compared with 43 in the same month last year.
"It's really a significant issue. We thought it would get better in 2018 but it's getting worse," Walsh said.
France has been a particular problem area for airlines, where public sector workers have staged a series of protests over the government's economic reforms.
IAG's airlines, which also include Iberia, Aer Lingus and Vueling, are having to spend more on fuel to travel via alternative routes to bypass French airspace, Walsh said.
"We end up paying compensation to customers. It's completely outside our control," he added, saying millions of passengers were affected and it cost airlines tens of millions of pounds.
Walsh said that because IAG was hedged for this year, he wasn't as concerned about fuel prices for 2018, but the higher prices would be a challenge for 2019.
"It's much higher than we expected it to be," he said.
The International Air Transport Association (IATA) has said rising fuel costs will hurt industry profits, cutting forecasts by 12 percent. IATA expects an average oil price of $70 a barrel this year, up from $54.90 last year and its previous prediction of $60.
Agency Report