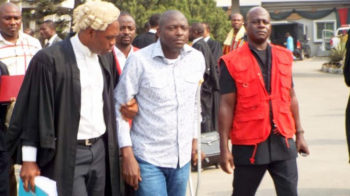 The trial of Patrick Akpobolokemi, a former Director General of the Nigerian Maritime Administration and Safety Agency (NIMASA), who is being prosecuted for an alleged N754 million fraud, continuedon Monday before Justice Raliat Adebiyi of State High Court sitting in Ikeja, Lagos, with a prosecution witness, Chukwuma Orji, revealing how the former NIMASA boss allegedly failed to execute contracts budgeted for by the agency.
Patrick Akpobolokemi is facing trial alongside Ezekiel Agaba, Ekene Nwakuche, Governor Juan, Vincent Udoye, Adegboyega Olopoenia and a company, Gama Marine Nigeria Limited, on a 13-count charge bordering on diversion of funds to the tune of N754 million.
While under cross-examination by the defence, Orji, an investigator with the Economic and Financial Crimes Commission (EFCC) told the court that the Vimsat Committee under NIMASA did not execute the contracts that were budgeted and paid for by NIMASA.
In his further testimony, he said committee members diverted the funds to their personal use.
Orji also told the court that during investigation of the Vimsat Committee, it was revealed that there were items in the contracts and the terms of the approved budget, which included training and re-training of 6,000 seafarers, purchase of Global Maritime Distress and Safety (GMDSS) access, purchase of communication gadgets and other related equipment, as well as their maintenance.
The investigator, who informed the court that an audit query was issued to Akpobolokemi by NIMASA, which he acted upon, further stated that money was paid into the account of Arrow World Consulting Company from the account of Vimsat Committee and subsequently diverted to individuals' accounts for personal use.
Justice Adebiyi adjourned the case to February 22, 23 and 27for continuation of trial.