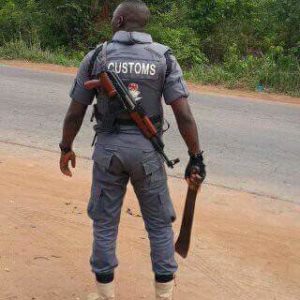 A stray bullet alleged to have been fired by a Customs officer in pursuit of rice smugglers has killed Amiru Abdulaziz, a 29-year old trader in Daddara town of Jibia Local Government Area in Katsina State.
Abdulaziz was hit by the bullet while coming out of his animal feeds shop on Tuesday at about 5:30 pm.
A relative of the deceased, Mallam Bello, said Abdulaziz has since been buried amidst "tears and sorrow".
"At around 5:30 pm on Tuesday we heard gun shots all over the town and we saw a Customs patrol team pursuing rice smugglers. As people began to scamper for safety due to the indiscriminate shooting, our brother was hit," he said.
Bello who was in tears while narrating the incident said the action of the Customs officials "has taken away the breadwinner of the family who was working hard to support his aged father, pregnant wife and two children".
Bello said it was not the first time that the people of the area were mourning such a tragedy.
He alleged that Customs' patrol teams "have been killing our people over the years."
The parents of the deceased, Abdul'aziz Daddara, and Zainab, also lamented the tragedy.
They called on authorities concerned to make sure that justice was done to them.