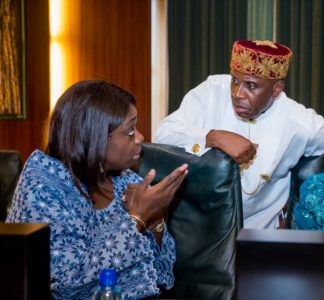 Transportation Minister, Hon. Rotimi Amaechi and his Finance counterpart, Mrs. Kemi Adeosun have commenced moves seeking a Federal Executive Council (FEC) approval to access over $1 billion funds accrued under the Comprehensive Import Supervisor Scheme (CISS) and Nigeria Export Supervision Scheme for a new ICT deal.
The one percent CISS was levied on all importation and served as payment to pre-shipment inspection and later destination inspection agents. However, the functions of the agents are now being carried out by the Nigeria Customs Service (NCS). 
Several maritime industry stakeholders have called for the abolition of the controversial levy but their calls have gone unheeded.
In a December 7, 2017 memo to FEC titled "Approval for the Establishment of the National Trade Platform, Joint Memorandum by Honourable Minister of Transportation and the Honourable Minister of Finance", the duo are seeking to be allowed to take the one percent Free On Board (FOB) CISS paid by Nigerian importers and the 0.5 percent NESS paid by exporters as fees for export trade facilitation services as a way of generating more funds.
Over $1 billion accrued in the accounts of NESS and CISS that are domiciled with the Central Bank of Nigeria are being targeted for the project, which will involve a foreign firm, Mckinsery & Company. 
The new deal and recent moves seek to oust Webb Fontaine Nigeria Limited that has been providing ICT backbone service to the Nigerian Customs Service.
The duo are seeking the approval of FEC for them to share the revenue already accrued into the CISS account to be the yet to be registered NTP (74 percent for both the Single Window and Scanning Service) and the CISS Secretariat (26 percent for CISS administration).
Also, once the export related segment of the single window is incorporated, the existing Nigeria Export Supervision Scheme (NESS) will be distributed between NTP (74 percent) and NESS Secretariat (26 percent).
According to the memo, the proposal had earlier been presented to Vice President Yemi Osinbajo at the Presidential enabling business Environmental Council (PEBEC) meeting. 
At the meeting, the Vice President reportedly constituted and inaugurated a steering committee that was co-chaired by the Comptroller-General of Customs, Hameed Ali and the Managing Director of Nigeria Ports Authority, Hadiza Bala-Usman to work on the proposal. 
Copyright Ships & Ports Ltd. Permission to use quotations from this article is granted subject to appropriate credit given to www.shipsandports.com.ng as the source.