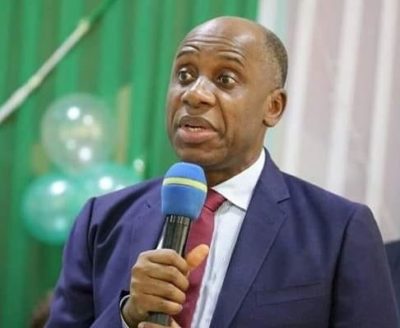 The Minister of Transportation, Rotimi Amaechi, has disclosed that President Muhammadu Buhari told him since May that he would be reappointed into the same position. 
Amaechi was re-appointed Transportation Minister by President Muhammadu Buhari. He served in the same capacity from November 2015 to May 2019. 
Former Chairman, Senate Committee on Marine Transport, Senator Gbemisola Saraki, was appointed Minister of State for Transportation. 
See full list of the 43 Ministers inaugurated by President Buhari and their portfolios here.
Amaechi, who spoke at a reception to mark his swearing on Wednesday in Abuja, said, "The President told me the same week cabinet was dissolved that 'I will return you to cabinet'. I kept it a secret but I could have announced to you. So, all those who were running helter-skelter; we knew that God would not allow them to have their way."
The minister reiterated his commitment to perform well in the ministry in such a way to please the President and to please Nigerians.
"We are grateful to God for the opportunity to serve again. I know how many of you were frightened that we would not get the appointment," he said. 
Also speaking earlier when he visited the Federal Ministry of Transportation, Amaechi, said he won't resume office until August 26, 2019. 
"Thank you for the warm welcome; I will officially resume duty on August 26, address the staff and probably brief the media afterwards.
"I can see that some of you are doing well and I can see smiling faces, but I want to ask you all to go back to work and I will resume on Monday, for my official duty," Amaechi told staff of the Ministry who welcomed him to the Ministry after his inauguration by the President. 
Meanwhile, maritime industry stakeholders have commended President Buhari for reappointing Ameachi as the country's Minister of Transportation.
The stakeholders who spoke with SHIPS & PORTS said they were not surprised that Ameachi retained his position given his achievements in the rail sector.
Immediate past president, Shipowners Association of Nigeria (SOAN), Engr. Greg Ogbeifun noted that with the creation of the Ministry of State for Transportation and Aviation sector already taken out of the transport ministry, there would be more focus and improvement in the maritime sector in the next four years.
"Stakeholders in the maritime sector should be grateful to God that Ameachi has been brought back to continue with the good job he did in his first term in our sector. Now that the Ministry of State for Transport has been created and aviation taken out of transportation, we are hoping that the Minister of State for Transport will now focus on the maritime and shipping sector. We should expect that there would be an improvement in all areas of the maritime sector," he said.
On his part, frontline master mariner, Captain Adewale Ishola, commended Ameachi's effort in the development of the sector, stating that he gave his best within available resources.
Ishola, however, urged the Minister to focus on setting up a national shipping carrier and ensure that the Israeli firm awarded the $195million maritime security contract to secure the nation's maritime domain delivers on the contract.
"I saw it coming that he would be reappointed. He should come and complete the railway project he started and the national carrier project that he couldn't finish during his first term. 
"If we bring a new person in, the person will come and start afresh but let him come and start where he stopped. I would say Ameachi tried in the development of the sector within the available resources with the present circumstances in the country. At least he started something. But the minister should ensure that the issue of Cabotage Vessel Financing Fund (CVFF), if within their budget, should be disbursed," he said.
Others who retained their portfolios are Zainab Ahmed as Minister of Finance, Budget and National Planning; Minister of Aviation, Hadi Sirika and Babatunde Fashola, who had his portfolios reduced to Works and Housing.