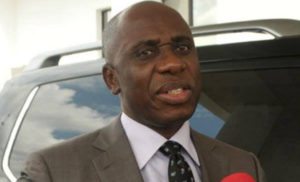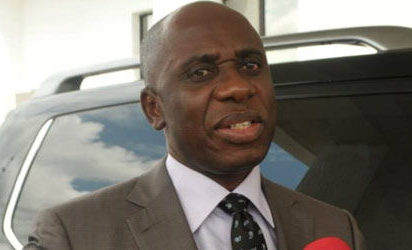 Minister of Transportation,  Chibuike Ameachi, Tuesday, said the decision of Aliko Dangote to set up a $100 million trucks assembly plant in Lagos was born out of frustration of the country's railway projects delay.
Ameachi made the statement when in received a delegation of General Electric (GE) and other companies in respect of the planned concession of the old narrow gauge rail lines in his office in Abuja.
The Minister who opened discussion with GE said the aggravation of the railway pushed Dangote into assembling heavy-duty trucks for distribution of its products both locally and across the continent.
According to him, "It was frustration of railway that made Dangote to go into assembling of truck to distribute his products".
Amaechi said that the government was currently negotiating with GE and other companies that had indicated interest to take over Lagos-Kano and Port Harcourt- Maiduguri narrow gauge through concession.
Ameachi said, "The deal was initially put at two billion dollars but now I cannot tell how much it will worth and that is why we are now talking."
"The negotiation is on and we are at the level of talking and it is only after then that we can talk of the deal."
"We are saying that between now and when the deal will happen, can the GE revive the 25 locomotives that we have to get it to work and work efficiently."
"The 25 locomotives have been there for a long time and we are trying to see if they can revive them and maintain them to increase the capacity of the Nigerian Railway Corporation so that people can travel easily from Lagos to Kano or Port Harcourt to Maiduguri fairly."
"We are going to concession the narrow gauge and if it is GE that we are going to concession it to, they will bring everything," he said.
The minister also confirmed that the government had released N76 billion as counterpart funding for Lagos-Ibadan Rail, adding that the government had also gotten approval for China Exim Bank.
According to him, "Our counterpart funding is N72 billion from the total cost of 1.5 billion dollars and the balance is paid by China Exim Bank."
"The new coaches to be deployed on Abuja- Kaduna rail line would arrive between February and March."
"We are doing everything possible to ensure that passengers are able to use the train from Abuja to Kaduna and from Kaduna to Abuja," he said.
Discussing with the GE team, the Managing Director of the Nigerian Railway (NRC), Engr. Fidet Okhiria, said the concession of the rail line was open, adding that the corporation had advertised for people to show interest.
Okhiria said only five companies had shown interest of which GE was one of them as at Monday, adding that their applications would be assessed based on the pre-qualification requirements.
The NRC boss stated, "Every other company has been coming but because the GE is big, people are more interested in their involvement."
Copyright Ships & Ports Ltd. Permission to use quotations from this article is granted subject to appropriate credit given to www.shipsandports.com.ng as the source.