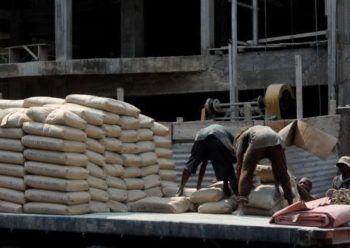 Following continuous increase in its production capacity, foremost cement manufacturer, Dangote cement Plc has finally ended the era of Nigeria's dependence on importation as the company exported 0.4 million tons of the product to other countries in 2016.
In its 2016 full year audited results presented on the floor of the Nigerian Stock Exchange (NSE) in Lagos yesterday, Dangote Cement sold 8.6 million metric tons of cement outside Nigeria, which is 54 per cent more than what was sold in 2015.
The export is significant given that the nation used to be a net importer of cement. As at 2011, Nigeria was one of the world's largest importers of cement, buying 5.1 million metric tons of foreign cement at huge expense to the country's balance of payments.
The company's Pan-African cement plants continued to perform well, contributing significantly to its turnover and profitability.
While presenting the results, the company's Chief Executive Officer, Onne van der Weijde, assured the investors of better returns on their investment in the Dangote Cement.