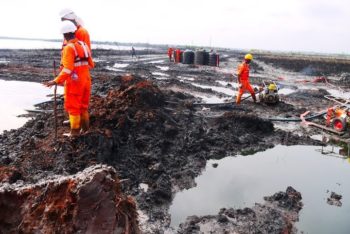 Amnesty International has called for a criminal investigation into the alleged role of Royal Dutch Shell in human rights abuses in Nigeria's oil-rich Ogoniland in the 1990s, accusations the Anglo-Dutch oil company has denied.
The rights group urged the British, Dutch and Nigerian governments carry out probes in a report that it said included evidence showing Shell's involvement in suppression of protesters by the military government in the 1990s.
Shell Petroleum Development Company of Nigeria Limited (SPDC) said the allegations were "false and without merit".
Shell, the largest oil producer in Nigeria, has faced several court cases relating to the turbulent period that culminated with the execution of rights campaigner Ken Saro-Wiwa and eight others in 1995.
Saro-Wiwa led a campaign to against environmental damage caused by the oil production in the lands of the Ogoni people in the Niger Delta, a major crude producing region.
Several communities from the Niger Delta have pursued civil claims against Shell in international courts relating to oil spills and environmental damage, saying they cannot secure a fair trial in Nigeria.
Amnesty said they "now believe that there are grounds for a criminal investigation" relating to the 1990s violence.
Amnesty issued a similar report in June on the issue, coinciding with a fresh civil lawsuit filed in the Netherlands by widows of four of the nine men executed in which they sought compensation and an apology from Shell.
"We have always denied, in the strongest possible terms, the allegations made in this tragic case," SPDC said in a statement, referring to the executions of Saro-Wiwa and other activists.
"Shell appealed to the Nigerian government to grant clemency. To our deep regret, that appeal, and the appeals made by many others within and outside Nigeria, went unheard," SPDC said.
In 2009, Shell agreed in an out-of-court settlement in the United States to pay $15.5 million in damages to a group of relatives of the nine.
Esther Kiobel, the widow of one of the nine Ogoni activists, had sought to raise a case against Shell in the United States but the U.S. Supreme Court ruled in 2013 that the country did not have jurisdiction to hear it.
Copyright Ships & Ports Ltd. Permission to use quotations from this article is granted subject to appropriate credit given to www.shipsandports.com.ng as the source.