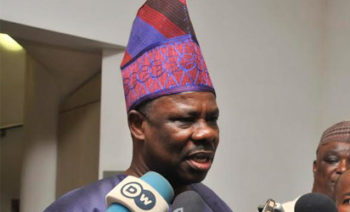 Ogun State governor, lbikunle Amosun on Friday tasked manufacturers to pay their taxes regularly to facilitate rapid development of the state.
Amosun, represented by the state Commissioner for Commerce and Industry, Bimbo Ashiru, made the plea at the 32nd Annual General Meeting (AGM) of the Manufacturers Association of Nigeria (MAN) in Ota, Ogun,.
"We can all imagine what the state will look like in terms of infrastructural development if all companies in Ogun pay their taxes," he said.
"There is the need for manufacturers to consistently remit their taxes so that government can provide enabling environment like good roads and other amenities in the state.
"The infrastructure will encourage businesses to thrive," he said.
Amosun promised that all the roads being rehabilitated in the state would be completed before the end of his administration.
He commended the manufacturers for their efforts toward industrialisation of the state.
"Industrialisation plays a critical role in national development and in eradicating unemployment and poverty in the country.
"There is a need for manufacturers to regularly come to the association's quarterly meetings because that is the only channel through which your complaints can get to the government.''
He reiterated that his administration was committed to supporting MAN and new investors to move the state forward positively.
MAN Chairman, Ogun State Chapter, Wale Adegbite, said that there was urgent need to strengthen the real sector by removing all obstacles restraining its growth and competitiveness.
Adegbite identified some impediments that had marred economic activities in the sector to include multiple taxation, dearth of foreign exchange for manufacturers, and epileptic power supply.
He listed other as the relatively high lending rates by banks, non-availability of local inputs and bad roads.
Copyright Ships & Ports Ltd. Permission to use quotations from this article is granted subject to appropriate credit given to www.shipsandports.com.ng as the source.