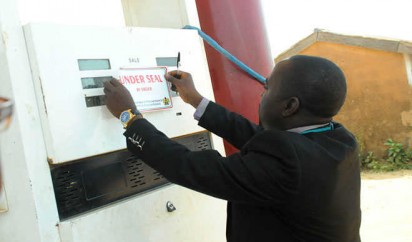 The Federal Ministry of Industry, Trade and Investment on Friday said
it sealed 40 petrol filling stations in Anambra State for defrauding motorists.
The ministry's Chief Legal Metrology Officer, Weights and Measures Department, Cordelia Nwachukwu, disclosed this while addressing journalists in Awka.
According to her, the audit and surveillance team which arrived Anambra on October 29, inspected about 100 outlets across the 21 council areas in the state.
Nwachukwu decried the short-changing of unsuspecting customers by
marketers who use substandard petrol pumps.
She said, "The marketers' reasons of high running cost, evaporation, mechanical error and shortage in supply from tanker drivers are not
acceptable.
"We have been here since one week on audit, and surveillance on oil
and gas sector in Anambra.
"We inspected about 100 filling stations and about 40 of them were
found wanting, what that means is that 40 percent of filling stations
here were shortchanging their customers.
"The 40 filling stations have been sealed and the owners invited for
questioning.''
Nwachukwu disclosed that some of the outdated equipment used by the
marketers were also blacklisted and ordered outright removal.
She stressed the ministry would intensify the test and verification of weighing and measuring instruments used for trade in all sectors to ensure Nigerians got value for their money.