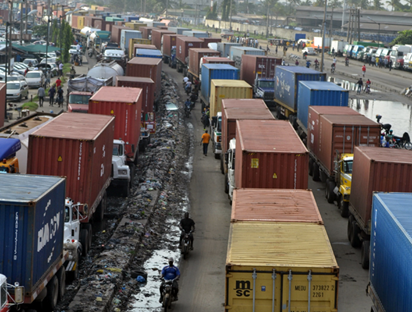 Vice Chairman, National Association of Road Transport Owner (NARTO) Mohammed Inuwa has urged the Nigeria Police to beam their search-light on container-laden trucks as a result of Apapa gridlock that has made the trucks vulnerable to vandals.
Inuwa, who made the call on Friday in Lagos said the incessant parking of container-laden trucks along the roads outside the port's facility while in the queue had made cargoes prone to vandalism.
The NARTO chairman while responding to a case of truckers that were arrested because a container under their care was allegedly burgled, said the police should be more responsive to their responsibility.
A truck driver, Emma Itodo, his truck conductor, Ahamed Dada and the escort, Gab Opara, were arrested on Monday by their transporter in connection with the vandalised container under their care.
Inuwa said the truckers might want to ease themselves or had fallen asleep in the night when the incident was allegedly committed without their knowledge.
He said, "The gridlock has made cargo-laden trucks stay far away from the ports area where there is police presence to areas like the Ijora and Carter Bridge where there is less security presence.
"These truckers are family men, but look at it now, they have been in custody since Monday probably for no fault of theirs."
Inuwa appealed to the police and other security operatives to keep watch on the containers as most of them were carrying goods worth millions of naira on transit.
The arrested men were conveying a 1×40 ft of benny seed container belonging to Olam Nigeria Limited for export before it was burgled.