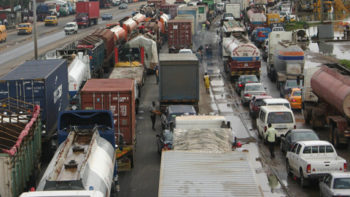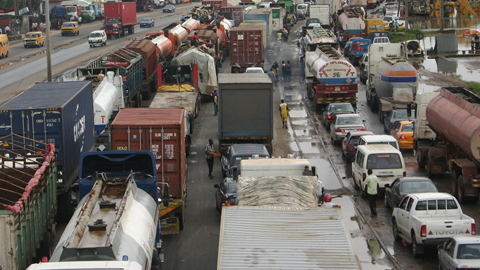 Worried by the recent traffic bottleneck that has taken over Apapa and its environs, the Lagos State Government on Friday directed owners and operators of articulated vehicles/trailers and petroleum tankers to stay away from Lagos for now.
The state government in a press conference jointly addressed by officials of the State as well as members of the Association of Maritime Truck Owners at the Bagauda Kaltho Press Centre in Alausa, regretted that the incessant traffic bottleneck had impacted negatively on the commercial activities of the citizenry, adding that the directive would be enforced to eliminate the current hardship being faced by motorists.
Addressing the briefing, the State's Acting Commissioner for Transportation, Prince Olanrewaju Elegushi said investigations revealed that the traffic lockdown was a direct result of the challenges being faced by operators of the ports, which had made it impossible for them to load the articulated vehicles/trailers that have come from the hinterland to evacuate imported items from the ports.
He said the gridlock was worsened by the current rehabilitation of some major roads and other minor roads, which necessitated the closure of some roads in Apapa, noting that the situation had led to the traffic bottleneck and backflow of the articulated vehicles to as far as Ojuelegba on the Funsho Williams Avenue, Surulere.
Explaining the reason for the State's directive, Commissioner for Information and Strategy, Steve Ayorinde, said the Apapa gridlock had also become a reoccurring problem due to constant breakdown of operations at the ports.
"Clearly, it is the breakdown of operations at the port that is the monster causing this reoccurring issue. We keep having this issue of gridlock in Apapa because issues that the ports authorities and the concessionaires are dealing with are recurrent and the spillover effect of those issues are causing all these," he said.